Odessa Cemetery, Odessa, Lincoln County, Washington, USA

OpenStreetMap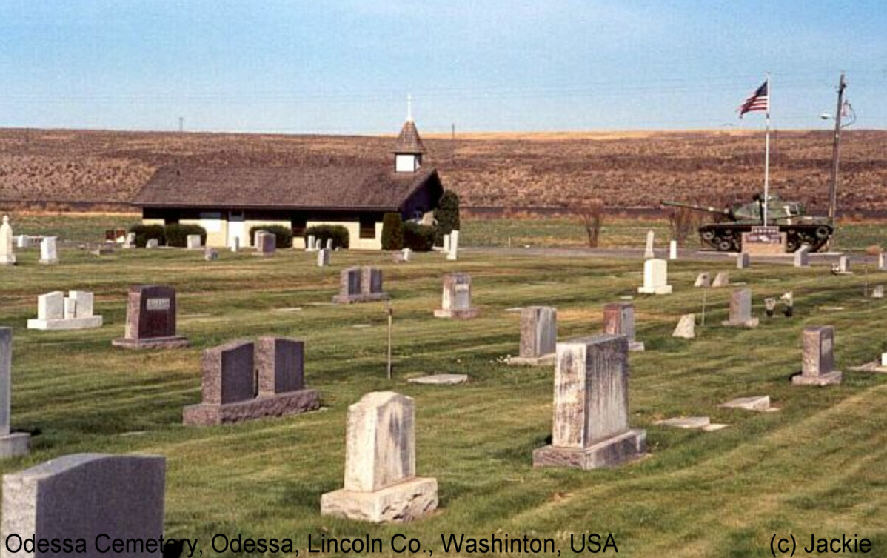 Notizen:
2.165 Graves (Jan 2020)
W 1St Ave, Odessa, Lincoln County, Washington, USA
From Odessa head west out of town on hwy. 28 for about 1 1/2 blocks. The cemetery is on the north side of the road and is characterized by a memorial tank, flagpole, and chapel in honor of those who served in the armed forces.
Friedhofs-Fotos
Vorschaubild
Beschreibung

1

Alfred Giese
Odessa Cemetery, Odessa, Lincoln County, Washington, USA

2

Alvin Hardt
Odessa Cemetery, Odessa, Lincoln County, Washington, USA

3

Ann V. Schell
Odessa Cemetery, Odessa, Lincoln County, Washington, USA

4

Anna Joan Schmauder
Odessa Cemetery, Odessa, Lincoln County, Washington, USA

5

Anna Marie Neumann
Odessa Cemetery, Odessa, Lincoln County, Washington, USA

6

Arthur S. Kuest
Odessa Cemetery, Odessa, Lincoln County, Washington, USA

7

August Giese
Odessa Cemetery, Odessa, Lincoln County, Washington, USA

8

Bernice Gladys Zimbelman
Odessa Cemetery, Odessa, Lincoln County, Washington, USA

9

Carl Dammel
Odessa Cemetery, Odessa, Lincoln County, Washington, USA

10

Carl Walter
Odessa Cemetery, Odessa, Lincoln County, Washington, USA

11

Charles Peterson
Odessa Cemetery, Odessa, Lincoln County, Washington, USA

12

Clarke Neal Schlimmer
Odessa Cemetery, Odessa, Lincoln County, Washington, USA

13

D'Anne Giese
Odessa Cemetery, Odessa, Lincoln County, Washington, USA

14

Daniel Giese
Odessa Cemetery, Odessa, Lincoln County, Washington, USA

15

Danny M. Giese
Odessa Cemetery, Odessa, Lincoln County, Washington, USA

16

Dennis Dean Giese
Odessa Cemetery, Odessa, Lincoln County, Washington, USA

17

Diane Giese
Odessa Cemetery, Odessa, Lincoln County, Washington, USA

18

Edmund E. Kuest
Odessa Cemetery, Odessa, Lincoln County, Washington, USA

19

Edna Lobe
Odessa Cemetery, Odessa, Lincoln County, Washington, USA

20

Edward Giese
Odessa Cemetery, Odessa, Lincoln County, Washington, USA

21

Ella Lydia Hille
Odessa Cemetery, Odessa, Lincoln County, Washington, USA

22

Elsie Kuest
Odessa Cemetery, Odessa, Lincoln County, Washington, USA

23

Eugene A. Kuest
Odessa Cemetery, Odessa, Lincoln County, Washington, USA

24

Florence M. Ramm
Odessa Cemetery, Odessa, Lincoln County, Washington, USA

25

George Neal Zimbelman
Odessa Cemetery, Odessa, Lincoln County, Washington, USA

26

Giese, Adolph D.
Odessa Cemetery, Odessa, Lincoln County, Washington, USA

27

Gustav Zimbelmann
Odessa Cemetery, Odessa, Lincoln County, Washington, USA

28

Harry I. Wolsborn
Odessa Cemetery, Odessa, Lincoln County, Washington, USA

29

Herbert Virgil Zimbelman
Odessa Cemetery, Odessa, Lincoln County, Washington, USA

30

Ida Lydia Giese
Odessa Cemetery, Odessa, Lincoln County, Washington, USA

31

Jacob C. Oster
Odessa Cemetery, Odessa, Lincoln County, Washington, USA

32

Johann Heinrich Uhrich
Odessa Cemetery, Odessa, Lincoln County, Washington, USA

33

Johannes Kuest
Odessa Cemetery, Odessa, Lincoln County, Washington, USA

34

Juliana Walker
Odessa Cemetery, Odessa, Lincoln County, Washington, USA

35

Kallenberger, Emma
Odessa Cemetery, Odessa, Lincoln County, Washington, USA

36

Karoline Viola Banko
Odessa Cemetery, Odessa, Lincoln County, Washington, USA

37

Katharina Haensel
Odessa Cemetery, Odessa, Lincoln County, Washington, USA

38

Lamar Strate
Odessa Cemetery, Odessa, Lincoln County, Washington, USA

39

Leonard A. Mills
Odessa Cemetery, Odessa, Lincoln County, Washington, USA

40

Lorena E. Hille
Odessa Cemetery, Odessa, Lincoln County, Washington, USA

41

Lorena Giese
Odessa Cemetery, Odessa, Lincoln County, Washington, USA

42

Lydia Giese
Odessa Cemetery, Odessa, Lincoln County, Washington, USA

43

Lydia Reimann
Odessa Cemetery, Odessa, Lincoln County, Washington, USA

44

Magdalena Jeske
Odessa Cemetery, Odessa, Lincoln County, Washington, USA

45

Magdalena Schatz
Odessa Cemetery, Odessa, Lincoln County, Washington, USA

46

Manford Laverne Giese
Odessa Cemetery, Odessa, Lincoln County, Washington, USA

47

Marion Markus Kuest
Odessa Cemetery, Odessa, Lincoln County, Washington, USA

48

Martha Giese
Odessa Cemetery, Odessa, Lincoln County, Washington, USA

49

Maude Edwina Kuest
Odessa Cemetery, Odessa, Lincoln County, Washington, USA

50

Minnie M. Dobson
Odessa Cemetery, Odessa, Lincoln County, Washington, USA

51

Paul E. Kuest
Odessa Cemetery, Odessa, Lincoln County, Washington, USA

52

Phillip Zimbelmann
Odessa Cemetery, Odessa, Lincoln County, Washington, USA

53

Roger Van Schlimmer
Odessa Cemetery, Odessa, Lincoln County, Washington, USA

54

Rose Zimbelmann
Odessa Cemetery, Odessa, Lincoln County, Washington, USA

55

Rudolph Harry Giese
Odessa Cemetery, Odessa, Lincoln County, Washington, USA

56

Ruth E. Giese
Odessa Cemetery, Odessa, Lincoln County, Washington, USA

57

Ruth Schultz
Odessa Cemetery, Odessa, Lincoln County, Washington, USA

58

Samuel Giese
Odessa Cemetery, Odessa, Lincoln County, Washington, USA

59

Ted Giese
Odessa Cemetery, Odessa, Lincoln County, Washington, USA

60

Unbekannt Schlimmer
Odessa Cemetery, Odessa, Lincoln County, Washington, USA

61

Virginia I. Horst
Odessa Cemetery, Odessa, Lincoln County, Washington, USA

62

William Weber
Odessa Cemetery, Odessa, Lincoln County, Washington, USA

63

William Weber Jr.
Odessa Cemetery, Odessa, Lincoln County, Washington, USA

64

Zimbelman, Donald Gus
Odessa Cemetery, Odessa, Lincoln County, Washington, USA

65

Zimbelman, Florence Lydia
Odessa Cemetery, Odessa, Lincoln County, Washington, USA

66

Zimbelman, Melvin Ernest
Odessa Cemetery, Odessa, Lincoln County, Washington, USA

67

Zimbelman, Rhea Jean
Odessa Cemetery, Odessa, Lincoln County, Washington, USA
Alle Beerdigungen
#

Nachname, Taufnamen

Begraben

Personen-Kennung

1.
Banko, Karoline Viola
gest. 17 Mai 1907
Odessa Cemetery, Odessa, Lincoln County, Washington, USA
I140312
2.
Dammel, Carl
gest. 19 Apr 2007
Odessa Cemetery, Odessa, Lincoln County, Washington, USA
I76618
3.
Dobson, Minnie M.
gest. 12 Nov 1986
Odessa Cemetery, Odessa, Lincoln County, Washington, USA
I159393
4.
Doran, Lola Mae
gest. 12 Okt 1946
Odessa Cemetery, Odessa, Lincoln County, Washington, USA
I211048
5.
Giese, Adolph D.
gest. 22 Mrz 1957
Odessa Cemetery, Odessa, Lincoln County, Washington, USA
I159247
6.
Giese, Alfred
gest. 1 Dez 1992
Odessa Cemetery, Odessa, Lincoln County, Washington, USA
I159424
7.
Giese, August
gest. 24 Jan 1962
Odessa Cemetery, Odessa, Lincoln County, Washington, USA
I20631
8.
Giese, D'Anne
gest. 20 Mai 1955
Odessa Cemetery, Odessa, Lincoln County, Washington, USA
I159400
9.
Giese, Daniel
gest. 22 Jan 1944
Odessa Cemetery, Odessa, Lincoln County, Washington, USA
I159392
10.
Giese, Danny M.
gest. 19 Aug 1973
Odessa Cemetery, Odessa, Lincoln County, Washington, USA
I159405
11.
Giese, Dennis Dean
gest. 26 Okt 1949
Odessa Cemetery, Odessa, Lincoln County, Washington, USA
I159432
12.
Giese, Diane
gest. 22 Mai 1955
Odessa Cemetery, Odessa, Lincoln County, Washington, USA
I159399
13.
Giese, Edward
begr. 6 Jun 1963
Odessa Cemetery, Odessa, Lincoln County, Washington, USA
I159423
14.
Giese, Ida Lydia
gest. 2 Jan 1998
Odessa Cemetery, Odessa, Lincoln County, Washington, USA
I20636
15.
Giese, Lorena
gest. 2008
Odessa Cemetery, Odessa, Lincoln County, Washington, USA
I159433
16.
Giese, Lydia
gest. 26 Dez 1998
Odessa Cemetery, Odessa, Lincoln County, Washington, USA
I159455
17.
Giese, Manford Laverne
gest. 10 Okt 1995
Odessa Cemetery, Odessa, Lincoln County, Washington, USA
I159397
18.
Giese, Martha
gest. 8 Aug 1926
Odessa Cemetery, Odessa, Lincoln County, Washington, USA
I159459
19.
Giese, Rudolph Harry
gest. 4 Sep 1950
Odessa Cemetery, Odessa, Lincoln County, Washington, USA
I159390
20.
Giese, Ruth E.
gest. 2003
Odessa Cemetery, Odessa, Lincoln County, Washington, USA
I159401
21.
Giese, Samuel
gest. 10 Mrz 1918
Odessa Cemetery, Odessa, Lincoln County, Washington, USA
I20629
22.
Giese, Ted
gest. 14 Mai 1993
Odessa Cemetery, Odessa, Lincoln County, Washington, USA
I159414
23.
Giese, Wilhelm
gest. 10 Mrz 1918
Odessa Cemetery, Odessa, Lincoln County, Washington, USA
I20520
24.
Guenther, Dorothea
gest. 28 Apr 1915
Odessa Cemetery, Odessa, Lincoln County, Washington, USA
I159411
25.
Haase, Christoph
gest. 18 Jul 1940
Odessa Cemetery, Odessa, Lincoln County, Washington, USA
I76718
26.
Haase, Rebecca
gest. 14 Jan 1967
Odessa Cemetery, Odessa, Lincoln County, Washington, USA
I79554
27.
Haensel, Katharina
gest. 16 Apr 1926
Odessa Cemetery, Odessa, Lincoln County, Washington, USA
I20634
28.
Hardt, Alvin
gest. 26 Apr 1994
Odessa Cemetery, Odessa, Lincoln County, Washington, USA
I127854
29.
Häuser, Christina
gest. 21 Aug 1932
Odessa Cemetery, Odessa, Lincoln County, Washington, USA
I159422
30.
Hemmerling, Gottlieb
gest. 23 Apr 1914
Odessa Cemetery, Odessa, Lincoln County, Washington, USA
I159428
31.
Hemmerling, Mary
gest. 10 Okt 1958
Odessa Cemetery, Odessa, Lincoln County, Washington, USA
I159427
32.
Hille, Ella Lydia
gest. 21 Apr 2001
Odessa Cemetery, Odessa, Lincoln County, Washington, USA
I156880
33.
Hille, Lorena E.
gest. 6 Mai 2009
Odessa Cemetery, Odessa, Lincoln County, Washington, USA
I159176
34.
Horst, Virginia I.
gest. Datum unbekannt
Odessa Cemetery, Odessa, Lincoln County, Washington, USA
I159398
35.
Jeske, Jacob
gest. 26 Jun 1946
Odessa Cemetery, Odessa, Lincoln County, Washington, USA
I159410
36.
Jeske, Louise
gest. 9 Mai 1950
Odessa Cemetery, Odessa, Lincoln County, Washington, USA
I159429
37.
Jeske, Magdalena
gest. 11 Jun 1975
Odessa Cemetery, Odessa, Lincoln County, Washington, USA
I159409
38.
Kallenberger, Emma
gest. 24 Mai 1984
Odessa Cemetery, Odessa, Lincoln County, Washington, USA
I2104
39.
Kuest, Arthur S.
gest. 9 Jan 1916
Odessa Cemetery, Odessa, Lincoln County, Washington, USA
I153303
40.
Kuest, Edmund E.
gest. 26 Aug 2004
Odessa Cemetery, Odessa, Lincoln County, Washington, USA
I153252
41.
Kuest, Elsie
gest. 21 Jan 1983
Odessa Cemetery, Odessa, Lincoln County, Washington, USA
I153300
42.
Kuest, Eugene A.
gest. 11 Apr 1989
Odessa Cemetery, Odessa, Lincoln County, Washington, USA
I153306
43.
Kuest, Johannes
gest. 13 Mai 1947
Odessa Cemetery, Odessa, Lincoln County, Washington, USA
I153290
44.
Kuest, Marion Marcus
begr. 13 Jan 1928
Odessa Cemetery, Odessa, Lincoln County, Washington, USA
I153294
45.
Kuest, Maude Edwina
gest. 26 Apr 2005
Odessa Cemetery, Odessa, Lincoln County, Washington, USA
I159391
46.
Kuest, Paul E.
gest. 11 Jul 1939
Odessa Cemetery, Odessa, Lincoln County, Washington, USA
I153293
47.
Lobe, Edna
gest. 29 Dez 1963
Odessa Cemetery, Odessa, Lincoln County, Washington, USA
I76617
48.
Mills, Leonard A.
gest. 23 Sep 1989
Odessa Cemetery, Odessa, Lincoln County, Washington, USA
I20637
49.
Neumann, Anna Marie
gest. 20 Jun 1928
Odessa Cemetery, Odessa, Lincoln County, Washington, USA
I159367
50.
Nitschke, Magdalena
gest. Nov 1978
Odessa Cemetery, Odessa, Lincoln County, Washington, USA
I159436
51.
Oster, Ernest Sr.
gest. 19 Aug 2014
Odessa Cemetery, Odessa, Lincoln County, Washington, USA
I159439
52.
Oster, Jacob
gest. 1963
Odessa Cemetery, Odessa, Lincoln County, Washington, USA
I159435
53.
Oster, Jacob C. Jr.
gest. Aug 1975
Odessa Cemetery, Odessa, Lincoln County, Washington, USA
I159434
54.
Peterson, Charles
gest. 15 Apr 1945
Odessa Cemetery, Odessa, Lincoln County, Washington, USA
I2102
55.
Ramm, Florence M.
gest. 26 Apr 1993
Odessa Cemetery, Odessa, Lincoln County, Washington, USA
I159425
56.
Ramm, Gottlieb Jr.
gest. 30 Jul 1948
Odessa Cemetery, Odessa, Lincoln County, Washington, USA
I159426
57.
Ramm, Gottlieb Sr.
gest. 28 Sep 1917
Odessa Cemetery, Odessa, Lincoln County, Washington, USA
I159430
58.
Reimann, Lydia
gest. 17 Apr 1957
Odessa Cemetery, Odessa, Lincoln County, Washington, USA
I153289
59.
Reiner, Katharine
gest. 19 Dez 1966
Odessa Cemetery, Odessa, Lincoln County, Washington, USA
I159417
60.
Schatz, Magdalena
gest. 30 Jan 1938
Odessa Cemetery, Odessa, Lincoln County, Washington, USA
I2092
61.
Schell, Ann V.
gest. 24 Aug 2008
Odessa Cemetery, Odessa, Lincoln County, Washington, USA
I159246
62.
Schlimmer, Clarke Neal
gest. 22 Sep 2000
Odessa Cemetery, Odessa, Lincoln County, Washington, USA
I4729
63.
Schlimmer, Roger Van
gest. 2 Mrz 1979
Odessa Cemetery, Odessa, Lincoln County, Washington, USA
I2117
64.
Schlimmer, Unbekannt
gest. 1948
Odessa Cemetery, Odessa, Lincoln County, Washington, USA
I45931
65.
Schmauder, Anna Joan
gest. 2003
Odessa Cemetery, Odessa, Lincoln County, Washington, USA
I159415
66.
Schmauder, Friedrich
gest. 30 Mrz 1967
Odessa Cemetery, Odessa, Lincoln County, Washington, USA
I159416
67.
Schultz, Ruth
gest. 2006
Odessa Cemetery, Odessa, Lincoln County, Washington, USA
I127853
68.
Stiegler, Johanna
gest. 2 Jun 1921
Odessa Cemetery, Odessa, Lincoln County, Washington, USA
I159431
69.
Strate, Douglas Paul
gest. 29 Nov 1952
Odessa Cemetery, Odessa, Lincoln County, Washington, USA
I4762
70.
Strate, Henry Herman
gest. 14 Jun 1969
Odessa Cemetery, Odessa, Lincoln County, Washington, USA
I211047
71.
Strate, Lamar
gest. 3 Jul 1985
Odessa Cemetery, Odessa, Lincoln County, Washington, USA
I2120
72.
Uhrich, Johann Heinrich
gest. 20 Apr 1967
Odessa Cemetery, Odessa, Lincoln County, Washington, USA
I153301
73.
Walter, Carl
gest. 5 Nov 1977
Odessa Cemetery, Odessa, Lincoln County, Washington, USA
I159402
74.
Weber, William Sr.
gest. 4 Jun 1939
Odessa Cemetery, Odessa, Lincoln County, Washington, USA
I156876
75.
Weber, William Jr.
gest. Okt 1982
Odessa Cemetery, Odessa, Lincoln County, Washington, USA
I156879
76.
Wolsborn, Harry I.
gest. 22 Feb 1999
Odessa Cemetery, Odessa, Lincoln County, Washington, USA
I8757
77.
Wolsborn, Johann
gest. 23 Nov 1915
Odessa Cemetery, Odessa, Lincoln County, Washington, USA
I128997
78.
Wolsborn, Thomas Lee
gest. 1 Aug 2000
Odessa Cemetery, Odessa, Lincoln County, Washington, USA
I8856
79.
Zimbelman, Bernice Gladys
gest. 19 Sep 1989
Odessa Cemetery, Odessa, Lincoln County, Washington, USA
I8756
80.
Zimbelman, Donald Gus
begr. 9 Aug 2017
Odessa Cemetery, Odessa, Lincoln County, Washington, USA
I2113
81.
Zimbelman, Florence Lydia
gest. 12 Jul 2009
Odessa Cemetery, Odessa, Lincoln County, Washington, USA
I2108
82.
Zimbelman, George Neal
gest. 18 Sep 2006
Odessa Cemetery, Odessa, Lincoln County, Washington, USA
I4773
83.
Zimbelman, Herbert Virgil
gest. 23 Okt 2015
Odessa Cemetery, Odessa, Lincoln County, Washington, USA
I2114
84.
Zimbelman, Melvin Ernest
begr. 29 Dez 2003
Odessa Cemetery, Odessa, Lincoln County, Washington, USA
I2109
85.
Zimbelman, Rhea Jean
gest. 28 Okt 2016
Odessa Cemetery, Odessa, Lincoln County, Washington, USA
I2112
86.
Zimbelmann, Phillip
begr. 15 Apr 1924
Odessa Cemetery, Odessa, Lincoln County, Washington, USA
I2091
87.
Zimbelmann, Rose
begr. 26 Nov 1965
Odessa Cemetery, Odessa, Lincoln County, Washington, USA
I2095