Landstad - Hope Cemetery, Fosston, Polk County, Minnesota, USA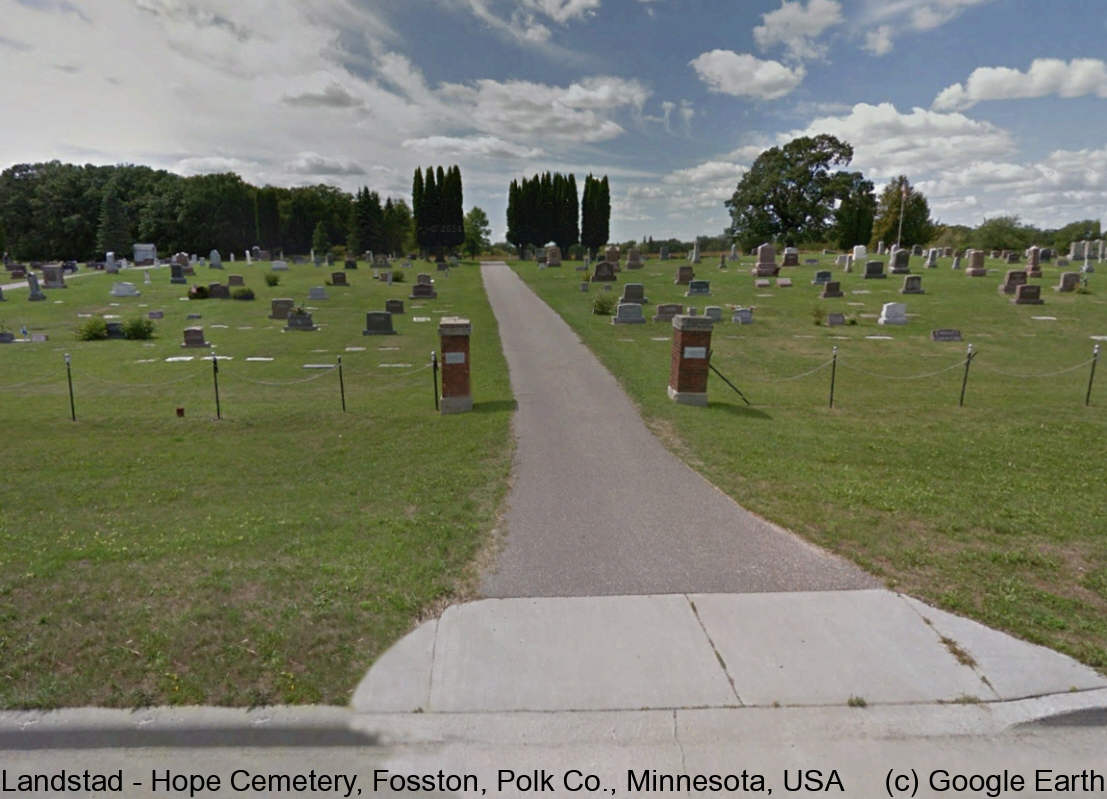 Notizen:
836 Graves (2016)
Also known as: Hope Cemetery, Lutheran Cemetery
Cemetery notes and/or description:
As found in the By-Laws for the Hope Lutheran Cemeteries
The Cemeteries operated by the Hope Lutheran Church of Fosston, Minnesota Landstad Cemetery, Also known as "Hope", will be governed by the by-laws.
The by-laws also govern Poplar River Cemetery and Brandsvold Cemetery.
Kingo part lies to the south end of the Landstad-Hope Cemeteries.
Landstad-Hope lies north side of the flag.
Geographische Breite: 47.58217662449603, Geographische Länge: -95.73773860931396
Friedhofs-Fotos
Vorschaubild
Beschreibung

1

Alma Lydia Beick
Landstad - Hope Cemetery, Fosston, Polk County, Minnesota, USA, Plot: Section C, Row 1, Grave 27

2

Alvin Bratland
Landstad - Hope Cemetery, Fosston, Polk County, Minnesota, USA, Plot: Section C, Row 1, Grave 28
Alle Beerdigungen
#

Nachname, Taufnamen

Begraben

Personen-Kennung

1.
Beick, Alma Lydia
gest. 20 Jul 1984
Landstad - Hope Cemetery, Fosston, Polk County, Minnesota, USA
I159323
2.
Bratland, Alvin
gest. 1996
Landstad - Hope Cemetery, Fosston, Polk County, Minnesota, USA
I159324