Regina Memorial Gardens, Regina, Division No.6, Saskatchewan, Canada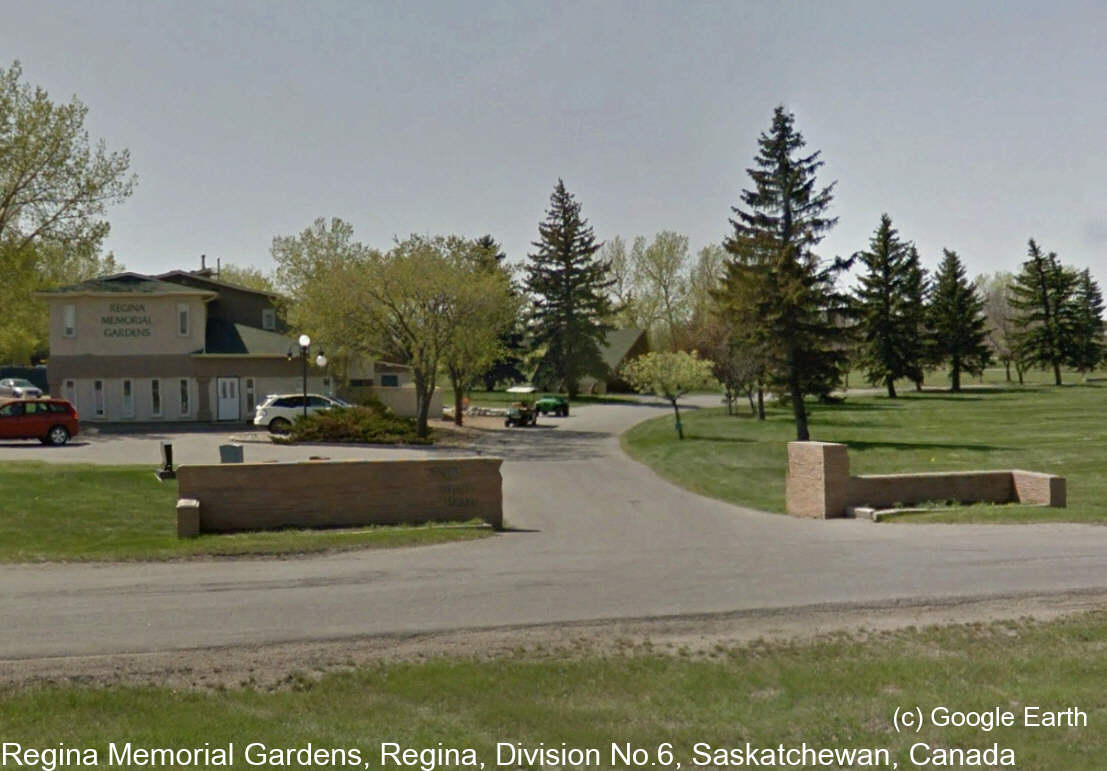 Notizen:
12.665 Graves (Sep 2018)
Regina, Regina Census Division, Saskatchewan, Canada
Phone: 306-791-6789
Cemetery notes and/or description:
Also known as: Regina Funeral Home & Cemetery
www.regina-memorial.ca
Directions: Take Hwy #1 East past Prince of Wales Drive.
Regina Memorial Gardens is a large privately owned cemetery located at the eastern edge of the city. An online search tool is available to locate burials in the Regina Memorial Gardens. There are three other large cemeteries operating within city boundaries. The City of Regina owns two of these: the older Regina Cemetery and the newer Riverside Memorial Park Cemetery. The Regina Jewish Cemetery is immediately adjacent to Regina Cemetery. Smaller cemeteries within the city boundaries include the Royal Canadian Mounted Police Cemetery, Regina Indian Industrial School Cemetery and Saint Pauls Anglican Columbarium.
Friedhofs-Fotos
Vorschaubild
Beschreibung

1

Becker, Hulda Helen
Regina Memorial Gardens, Regina, Regina Census Division, Saskatchewan, Canada

2

Becker, Johann
Regina Memorial Gardens, Regina, Regina Census Division, Saskatchewan, Canada

3

Howard Hahn
Regina Memorial Gardens, Regina, Regina Census Division, Saskatchewan, Canada

4

Lorne Ivan Domes
Regina Memorial Gardens, Regina, Regina Census Division, Saskatchewan, Canada

5

Matilda Buchholz
Regina Memorial Gardens, Regina, Regina Census Division, Saskatchewan, Canada
Alle Beerdigungen
#

Nachname, Taufnamen

Begraben

Personen-Kennung

1.
Becker, Hulda Helen
gest. 8 Dez 1980
Regina Memorial Gardens, Regina, Division No.6, Saskatchewan, Canada
I73216
2.
Becker, Johannes
begr. 9 Mrz 1979
Regina Memorial Gardens, Regina, Division No.6, Saskatchewan, Canada
I73211
3.
Buchholz, Matilda
begr. 31 Mai 1974
Regina Memorial Gardens, Regina, Division No.6, Saskatchewan, Canada
I73210
4.
Domes, Garnet Lorne
gest. 9 Aug 2016
Regina Memorial Gardens, Regina, Division No.6, Saskatchewan, Canada
I183384
5.
Domes, Lorne Ivan
gest. 9 Apr 2006
Regina Memorial Gardens, Regina, Division No.6, Saskatchewan, Canada
I73217
6.
Hahn, Howard
gest. 1941
Regina Memorial Gardens, Regina, Division No.6, Saskatchewan, Canada
I73250
7.
Hahn, Robert
gest. 1985
Regina Memorial Gardens, Regina, Division No.6, Saskatchewan, Canada
I73251
8.
Hoffman, Louis Reuben
gest. 24 Okt 1999
Regina Memorial Gardens, Regina, Division No.6, Saskatchewan, Canada
I252269