Grandview Cemetery, Fort Collins, Larimer County, Colorado, USA

OpenStreetMap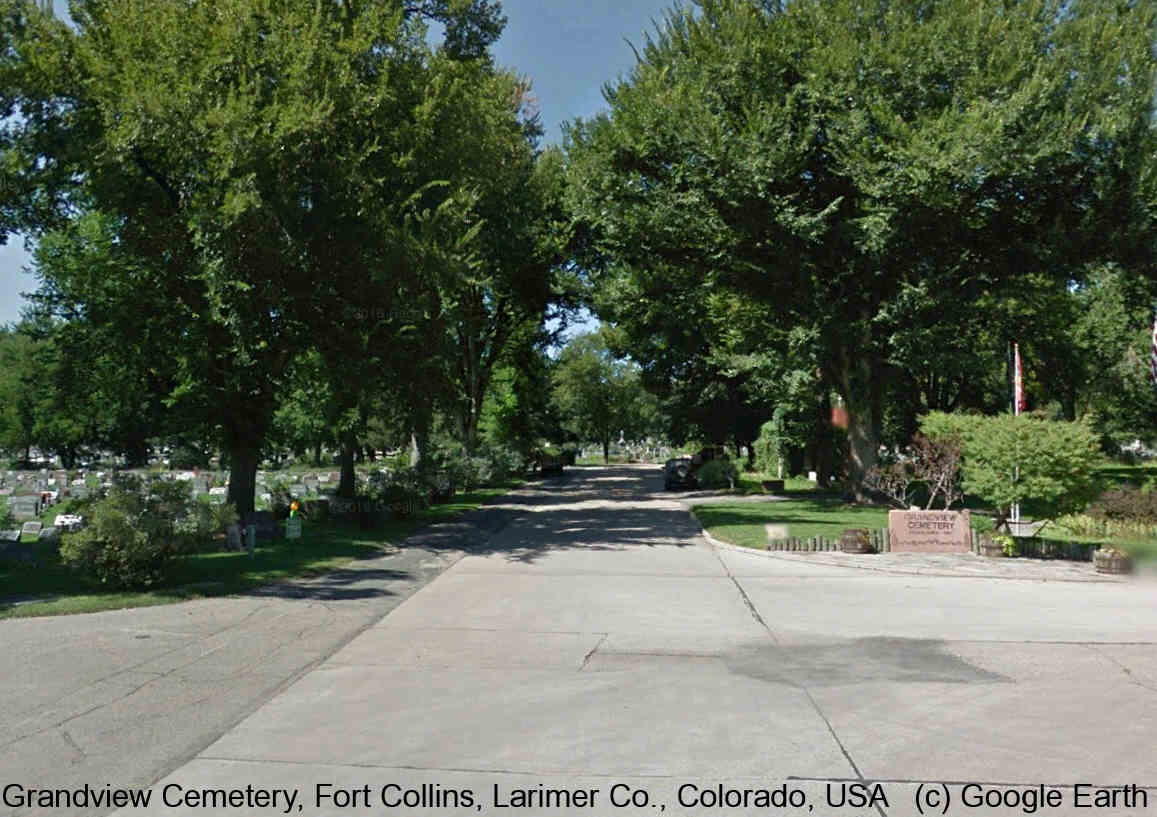 Notizen:
25.892 Graves (Jul 2019)
S Taft Hill Rd, Fort Collins, Larimer County, Colorado, USA
Land one-mile-and-a-half west of the city was purchased in 1887 from Thomas Connolly for $5 per acre. Grandview Cemetery (originally written as Grand View) was located in an area having abundant water rights from Pleasant Valley and Lake Canals. A 40-acre tract was immediately laid out by landscape gardeners for cemetery purposes.
The first interment was a three month old baby named Felix Scoville who was buried on November 21, 1887 and was placed in an unmarked grave in Section K. Shortly after this interment, work began to remove the remains from Mountain Home Cemetery to Grandview. According to the FORT COLLINS EXPRESS, "Joe Woodcock acted as grave digger and sexton." No record remains of the number of burials that were transferred, however, it has been estimated that the removal work took a great deal of time.
W. W. Westfall was among the remains moved for the second time. His grave now lies on the front edge of the Soldier's Section which has been marked by a simple headstone.
The grounds at Grandview were originally laid out in attractive circular drives. Included were several small parks boasting lush blue grass, well-trimmed shrubs, and beautiful flowers.
A one-half acre plat (Section S) was set aside and dedicated to the uses of George H. Thomas/Post No. 7/Grand Army of the Republic, which also included the remains of soldiers buried at the Post Cemetery.
Since 1887, many members of Post No. 7 as well as veterans of the Spanish-American War, both World Wars, and the Korean War have been laid to rest in this area. Standing in the center of this section is a life-size figure of a Union Civil War soldier at parade rest. Including a six-foot base, the 12-foot Soldier's Monument stands facing east as a tribute of patriotism from members of the Women's Relief Corp of the George H. Thomas Post No. 7. The granite memorial was erected in 1905 at a cost of about $1250.
The Soldier's Monument was "protected" by four towering silver spruce trees for many years until one had to be removed due to damage in a windstorm. The G.A.R. (Grand Army of the Republic) donated two Civil War cannons, both dated in the 1860's, for placement in front of the memorial. One of the cannons was destroyed by vandals in 1972. The other was donated to the Fort Collins Museum in 1986.
Across the road to the east is a Fireman's Statue which was dedicated to the Volunteer Fire Department in 1909.
Grandview remained outside city limits for many years. Only in 1907 did citizens object to its location when a proposed purchase of land on the south side of West Mountain Avenue was set for use as a city park. Their concern was to buffer the cemetery from areas with recreational uses. Hence, a row of streets was removed from the original park proposal.
The severe influenza epidemic of 1918 reduced the number of available lots, so additional lots were opened in the Grandview Addition, a 10-acre section south of the original cemetery which had opened in 1915.
In 1924, a concrete bridge was placed over the canal at Grandview. Rustic sidewalls and flower receptacles were installed on the bridge to give the cemetery entrance a pleasing look which still remains. In addition, countless trees and shrubs have been planted over the years making Grandview one of the most beautiful cemeteries in the area.
Today, Grandview consists of approximately 45 developed acres, 34,000 grave spaces, and over 23,000 burials.
Friedhofs-Fotos
Vorschaubild
Beschreibung

1

Arthur Leroy Brandner
Grandview Cemetery, Fort Collins, Larimer County, Colorado, USA

2

Bertha Ann Tillotson
Grandview Cemetery, Fort Collins, Larimer County, Colorado, USA

3

Bessie Jesser
Grandview Cemetery, Fort Collins, Larimer County, Colorado, USA

4

E. Theodore Reiser
Grandview Cemetery, Fort Collins, Larimer County, Colorado, USA

5

Frances Bertha Blado
Grandview Cemetery, Fort Collins, Larimer County, Colorado, USA

6

Frank H. Jesser
Grandview Cemetery, Fort Collins, Larimer County, Colorado, USA

7

Georg Phillip Brandner
Grandview Cemetery, Fort Collins, Larimer County, Colorado, USA

8

Gordon Lee Jesser
Grandview Cemetery, Fort Collins, Larimer County, Colorado, USA

9

Jake Pastor
Grandview Cemetery, Fort Collins, Larimer County, Colorado, USA

10

Jesser, Agnes Irene
Grandview Cemetery, Fort Collins, Larimer County, Colorado, USA

11

Lydia Pastor
Grandview Cemetery, Fort Collins, Larimer County, Colorado, USA

12

Lynne Idell
Grandview Cemetery, Fort Collins, Larimer County, Colorado, USA

13

Margaret A. Brandner
Grandview Cemetery, Fort Collins, Larimer County, Colorado, USA

14

Mary Ella Reiser
Grandview Cemetery, Fort Collins, Larimer County, Colorado, USA

15

Paul Jesser
Grandview Cemetery, Fort Collins, Larimer County, Colorado, USA

16

Robert Paul Jesser
Grandview Cemetery, Fort Collins, Larimer County, Colorado, USA

17

Theodore A. Reiser
Grandview Cemetery, Fort Collins, Larimer County, Colorado, USA

18

WillaRuth Rudledge
Grandview Cemetery, Fort Collins, Larimer County, Colorado, USA
Alle Beerdigungen
#

Nachname, Taufnamen

Begraben

Personen-Kennung

1.
Blado, Frances Bertha
gest. 12 Sep 1983
Grandview Cemetery, Fort Collins, Larimer County, Colorado, USA
I39382
2.
Brandner, Arthur Leroy
gest. 4 Sep 1944
Grandview Cemetery, Fort Collins, Larimer County, Colorado, USA
I158695
3.
Brandner, Georg Phillip
gest. 30 Nov 1954
Grandview Cemetery, Fort Collins, Larimer County, Colorado, USA
I158682
4.
Idell, Lynne
gest. 26 Jul 2009
Grandview Cemetery, Fort Collins, Larimer County, Colorado, USA
I201729
5.
Jesser, Agnes Irene
gest. 18 Mai 1952
Grandview Cemetery, Fort Collins, Larimer County, Colorado, USA
I39438
6.
Jesser, Bessie - wife of
gest. 25 Feb 1961
Grandview Cemetery, Fort Collins, Larimer County, Colorado, USA
I201727
7.
Jesser, Gordon Lee
gest. 14 Feb 2008
Grandview Cemetery, Fort Collins, Larimer County, Colorado, USA
I39393
8.
Jesser, Paul
begr. 28 Mai 1971
Grandview Cemetery, Fort Collins, Larimer County, Colorado, USA
I39437
9.
Jesser, Robert Paul
gest. 24 Mai 2009
Grandview Cemetery, Fort Collins, Larimer County, Colorado, USA
I201728
10.
Jesser, Willard Ray
gest. 15 Jan 1923
Grandview Cemetery, Fort Collins, Larimer County, Colorado, USA
I39383
11.
Morrish, Ida M.
gest. 10 Jan 1977
Grandview Cemetery, Fort Collins, Larimer County, Colorado, USA
I204038
12.
Pastor, Jake
gest. 25 Nov 1985
Grandview Cemetery, Fort Collins, Larimer County, Colorado, USA
I119536
13.
Pastor, Lydia - wife of
gest. 27 Aug 1987
Grandview Cemetery, Fort Collins, Larimer County, Colorado, USA
I119537
14.
Reiser, E. Theodore
gest. Jul 1977
Grandview Cemetery, Fort Collins, Larimer County, Colorado, USA
I158692
15.
Reiser, Mary Ella - wife of
gest. 11 Jan 1971
Grandview Cemetery, Fort Collins, Larimer County, Colorado, USA
I158694
16.
Reiser, Theodore A.
gest. 20 Apr 1956
Grandview Cemetery, Fort Collins, Larimer County, Colorado, USA
I158693
17.
Rogers, Clark
gest. 10 Okt 1955
Grandview Cemetery, Fort Collins, Larimer County, Colorado, USA
I204037
18.
Rudledge, WillaRuth
gest. 3 Nov 2014
Grandview Cemetery, Fort Collins, Larimer County, Colorado, USA
I39394
19.
Tillotson, Bertha Ann
gest. 3 Sep 1938
Grandview Cemetery, Fort Collins, Larimer County, Colorado, USA
I158683