Concordia Cemetery, Forest Park, Cook County, Illinois, USA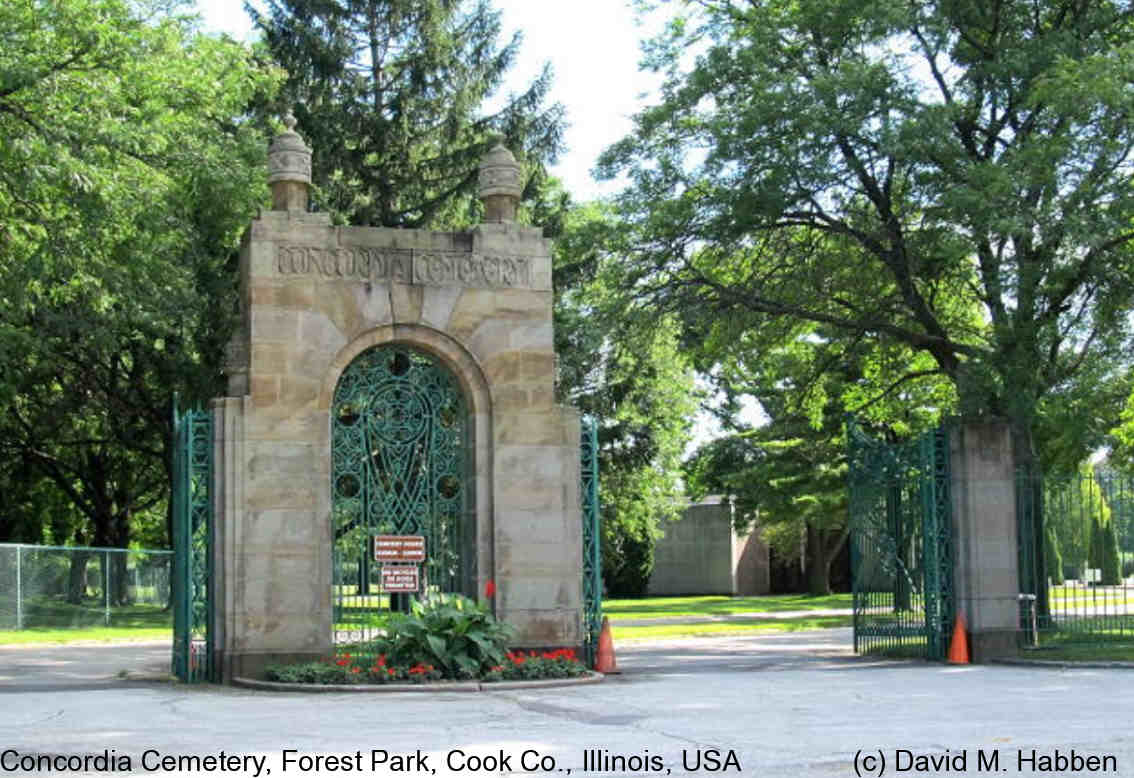 Notizen:
7900 Madison Street
Forest Park
Cook County
Illinois USA
Phone: 708-366-0017
www.ingodsarms.com
Cemetery notes and/or description:
Visiting hours are 8-5 daily; office hours are 8:30-4 weekdays, 9-2 Saturdays.
Concordia Cemetery, founded in 1872, is operated by an association of several Lutheran congregations in Chicago. The Des Plaines River runs along the cemetery's western side, and the Eisenhower Expressway (I-290) marks the southern boundary; the expressway's construction in the early 1950s necessitated the relocation of several thousand graves in the cemetery, as was also true of Forest Home Cemetery, which is directly across the expressway. Section A (alternately designated Section 23) is completely composed of single, unmarked graves which were originally leased for 25-year periods, after which they reverted to cemetery ownership. Sections 8-13 are in the cemetery's southern half, south of the former Chicago Great Western Railway right-of-way which runs across the cemetery from east to west; sections 8 and 13 are on the west, along the river, and sections 11 through 13 are along the expressway. The office staff is helpful in providing grave locations, and - when time allows - may assist in locating the gravesite. Genealogy requests, for $3 per name, can also be sent by mail via a form available on the cemetery website; available information includes place of death, date of interment and possibly age, and (after 1912) date of death.
Friedhofs-Fotos
Vorschaubild
Beschreibung

1

August E. Brandner
Concordia Cemetery, Forest Park, Cook County, Illinois, USA

2

Elizabeth Goldenbogen
Concordia Cemetery, Forest Park, Cook County, Illinois, USA

3

Elmer A. Brandner
Concordia Cemetery, Forest Park, Cook County, Illinois, USA, Plot: Lot: 374, Section 1

4

Lilly Wanda Brandner
Concordia Cemetery, Forest Park, Cook County, Illinois, USA, Plot: Lot: 374, Section 1

5

Louise Sophie Brandner
Concordia Cemetery, Forest Park, Cook County, Illinois, USA

6

Mirtle Brandner
Concordia Cemetery, Forest Park, Cook County, Illinois, USA

7

Robert Johann Busse
Concordia Cemetery, Forest Park, Cook County, Illinois, USA

8

Violett Brandner
Concordia Cemetery, Forest Park, Cook County, Illinois, USA
Alle Beerdigungen
#

Nachname, Taufnamen

Begraben

Personen-Kennung

1.
Amling, Hedwig Lauretta
gest. 17 Nov 1988
Concordia Cemetery, Forest Park, Cook County, Illinois, USA
I158376
2.
Brandner, August E.
gest. 4 Jul 1922
Concordia Cemetery, Forest Park, Cook County, Illinois, USA
I158338
3.
Brandner, Elmer A.
gest. 20 Dez 1910
Concordia Cemetery, Forest Park, Cook County, Illinois, USA
I158370
4.
Brandner, Lilly Wanda
gest. 29 Mrz 1917
Concordia Cemetery, Forest Park, Cook County, Illinois, USA
I158390
5.
Brandner, Louise Sophie
gest. 5 Dez 1952
Concordia Cemetery, Forest Park, Cook County, Illinois, USA
I158340
6.
Brandner, Malinda
gest. Jun 1973
Concordia Cemetery, Forest Park, Cook County, Illinois, USA
I158371
7.
Brandner, Mirtle
gest. 2 Sep 1905
Concordia Cemetery, Forest Park, Cook County, Illinois, USA
I158392
8.
Brandner, Violett
gest. 21 Aug 1905
Concordia Cemetery, Forest Park, Cook County, Illinois, USA
I158391
9.
Busse, Robert Johann
gest. 10 Apr 1936
Concordia Cemetery, Forest Park, Cook County, Illinois, USA
I158341
10.
Bussert, William John Rudolph
gest. 8 Mai 1971
Concordia Cemetery, Forest Park, Cook County, Illinois, USA
I158375
11.
Csernansky, Albert
begr. 12 Nov 1991
Concordia Cemetery, Forest Park, Cook County, Illinois, USA
I94667
12.
Goldenbogen, Elizabeth
gest. 17 Dez 1943
Concordia Cemetery, Forest Park, Cook County, Illinois, USA
I158339
13.
Jung, Herbert Otto
gest. 12 Jun 1981
Concordia Cemetery, Forest Park, Cook County, Illinois, USA
I158372