Cypress Hill Memorial Park, Petaluma, Sonoma County, California, USA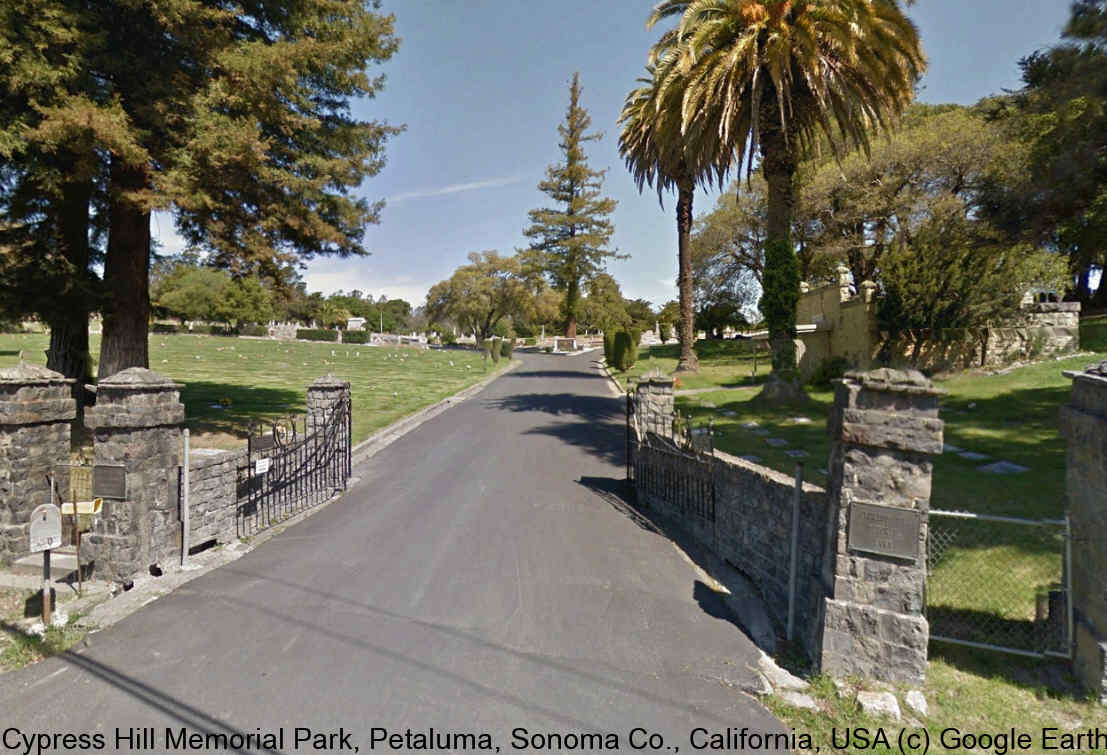 Notizen:
430 Magnolia Avenue
Petaluma
Sonoma County
California USA
Cemetery notes and/or description:
Highway 101 north to Petaluma. Exit west on Washington street. Turn right on Petaluma Hill Blvd. Left on Magnolia.
There is a fee charged by the cemetery for burial lookups.
Geographische Breite: 38.24787266297295, Geographische Länge: -122.65264749570633
Friedhofs-Fotos
Vorschaubild
Beschreibung

1

Robert Peter
Cypress Hill Memorial Park, Petaluma, Sonoma County, California, USA, Plot: Garden of Devotion

2

Ruth Violet Pontine
Cypress Hill Memorial Park, Petaluma, Sonoma County, California, USA, Plot: Garden of Devotion
Alle Beerdigungen
#

Nachname, Taufnamen

Begraben

Personen-Kennung

1.
Peter, Robert
begr. 26 Feb 1997
Cypress Hill Memorial Park, Petaluma, Sonoma County, California, USA
I94677
2.
Pontine, Ruth Violet
gest. 22 Jan 1995
Cypress Hill Memorial Park, Petaluma, Sonoma County, California, USA
I153045
3.
Schauer, John Jr.
begr. 24 Nov 1993
Cypress Hill Memorial Park, Petaluma, Sonoma County, California, USA
I62641