Rose Hill Cemetery , Hagerstown, Washington County, Maryland, USA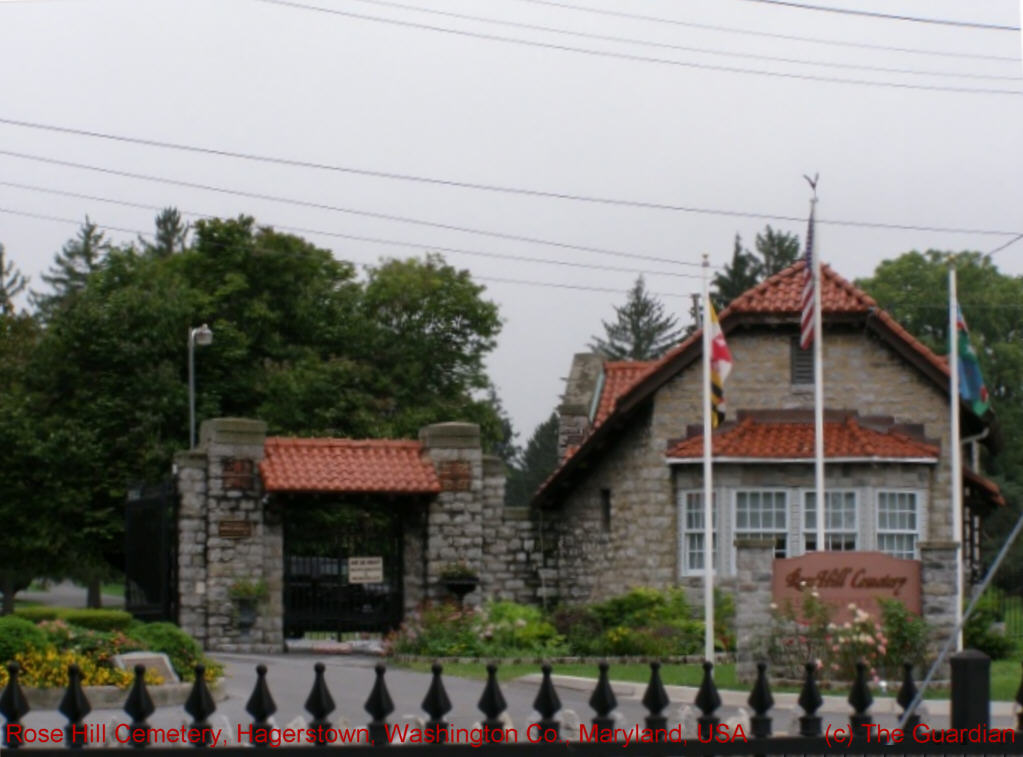 Notizen:
32.436 Graves (Jul 2017)
600 South Potomac Street, Hagerstown, Washington County, Maryland, USA
Cemetery notes and/or description:
Postal Code: 21740
Phone: 301-739-3630
www.rosehillcemeteryofh...
The oldest public cemetery in Washington County, Maryland, it originated in 1866. The graves may be found here of soldiers from at least half a dozen wars, not to mention Governors, Senators and Congressmen. From less than thirty original acres Rose Hill has expanded today to over 100 acres. The name comes from the original land grant by the King of England during Colonial Times to Wroe family. The home which was located on a hill was known as "Wroe Hill." This later became "Rose Hill". There is also the large Rose Hill Mausoleum located on the grounds. A separate cemetery, Washington Confederate Cemetery, is located within Rose Hill and contains the graves of over 2000 Confederate soldiers who died in the nearby battles of Antietam and South Mountain.
Friedhofs-Fotos
Vorschaubild
Beschreibung

1

Blance Elizabeth Loudenslager
Rose Hill Cemetery, Hagerstown, Washington County, Maryland, USA

2

Ethel Josephine Hawbaker
Rose Hill Cemetery, Hagerstown, Washington County, Maryland, USA, Plot: Section 13

3

Eva H. Hawbaker
Rose Hill Cemetery, Hagerstown, Washington County, Maryland, USA, Plot: Section 14

4

Francis Richard Crowther
Rose Hill Cemetery, Hagerstown, Washington County, Maryland, USA, Plot: Section 13

5

Vincent Cletus Hawbaker
Rose Hill Cemetery, Hagerstown, Washington County, Maryland, USA, Plot: Section 14
Alle Beerdigungen
#

Nachname, Taufnamen

Begraben

Personen-Kennung

1.
Crowther, Francis Richard Sr.
gest. 7 Feb 1990
Rose Hill Cemetery, Hagerstown, Washington County, Maryland, USA
I167773
2.
Hawbaker, Ethel Josephin
gest. 28 Mrz 2002
Rose Hill Cemetery, Hagerstown, Washington County, Maryland, USA
I167772
3.
Hawbaker, Eva H. - wife of
gest. 1995
Rose Hill Cemetery, Hagerstown, Washington County, Maryland, USA
I167778
4.
Hawbaker, Vincent Cletus Sr.
gest. 6 Dez 1993
Rose Hill Cemetery, Hagerstown, Washington County, Maryland, USA
I167777
5.
Loudenslager, Blanche Elizabeth
gest. 12 Jun 1956
Rose Hill Cemetery, Hagerstown, Washington County, Maryland, USA
I127403
6.
Loudenslager, George W.
gest. 20 Aug 1911
Rose Hill Cemetery, Hagerstown, Washington County, Maryland, USA
I127404
7.
Loudenslager, Josephine A. - wife of
gest. 10 Mrz 1932
Rose Hill Cemetery, Hagerstown, Washington County, Maryland, USA
I127405
8.
Marshall, Helen Irene
gest. 9 Jul 1999
Rose Hill Cemetery, Hagerstown, Washington County, Maryland, USA
I28638