Green Hills Memorial Park, Rancho Palos Verdes, Los Angeles County, California, USA

OpenStreetMap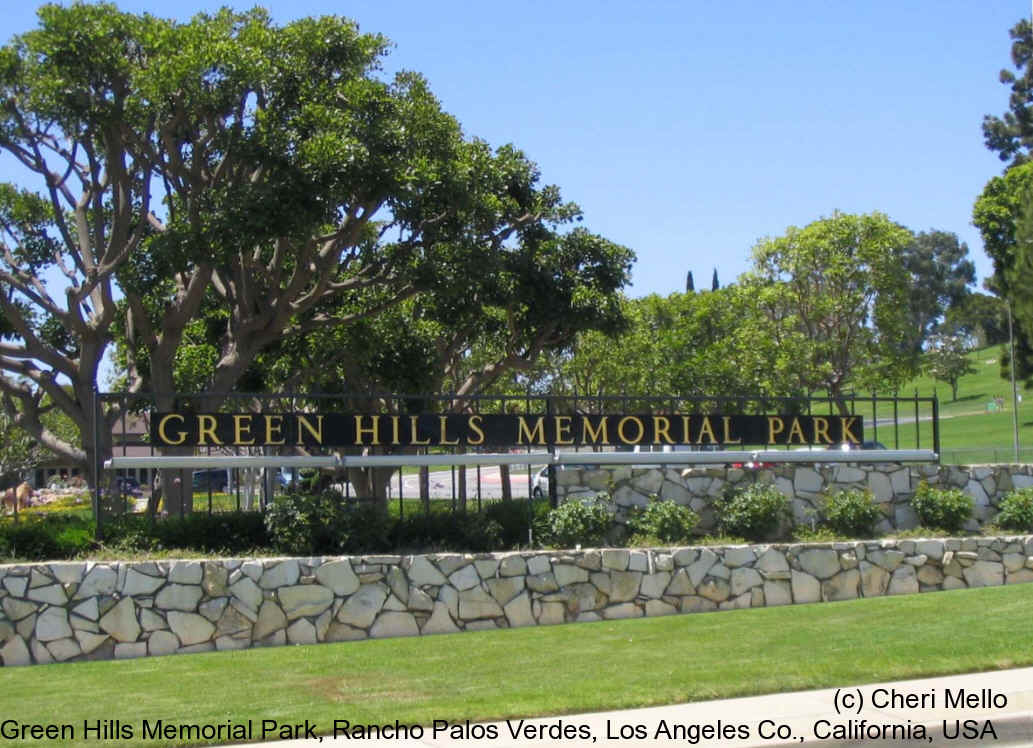 Notizen:
108.842 Graves (Jul 2019)
27501 South Western Avenue, Rancho Palos Verdes, Los Angeles County, California, USA
Phone: 001-310-831-0311
stablished in 1948. In a partnership between local business owners and community members, 120 acres of property were acquired and transformed into an extraordinary park-like setting overlooking the Pacific Ocean, Palos Verdes Peninsula and the Los Angeles skyline. This property became known as Green Hills Memorial Park.
Friedhofs-Fotos
Vorschaubild
Beschreibung

1

Cornelius Christian Griess
Green Hills Memorial Park, Rancho Palos Verdes, Los Angeles County, California, USA

2

Domenic Grillo
Green Hills Memorial Park, Rancho Palos Verdes, Los Angeles County, California, USA

3

Dorothy Jesser
Green Hills Memorial Park, Rancho Palos Verdes, Los Angeles County, California, USA

4

Petersen, Hillive Ida Octavia
Green Hills Memorial Park, Rancho Palos Verdes, Los Angeles County, California, USA
Alle Beerdigungen
#

Nachname, Taufnamen

Begraben

Personen-Kennung

1.
Arnold, William Daniel
begr. 22 Jan 1977
Green Hills Memorial Park, Rancho Palos Verdes, Los Angeles County, California, USA
I39419
2.
Griess, Cornelius Christian
begr. 14 Jan 2008
Green Hills Memorial Park, Rancho Palos Verdes, Los Angeles County, California, USA
I51285
3.
Grillo, Domenic
begr. 13 Apr 1981
Green Hills Memorial Park, Rancho Palos Verdes, Los Angeles County, California, USA
I171655
4.
Jesser, Dorothy
begr. 21 Jan 1983
Green Hills Memorial Park, Rancho Palos Verdes, Los Angeles County, California, USA
I92133
5.
Jesser, Sophia
gest. 24 Mrz 1993
Green Hills Memorial Park, Rancho Palos Verdes, Los Angeles County, California, USA
I39418
6.
Petersen, Hillive Ida Octavia
gest. 27 Sep 1995
Green Hills Memorial Park, Rancho Palos Verdes, Los Angeles County, California, USA
I94373