Arlington National Cemetery, Arlington, Arlington County, Virginia, USA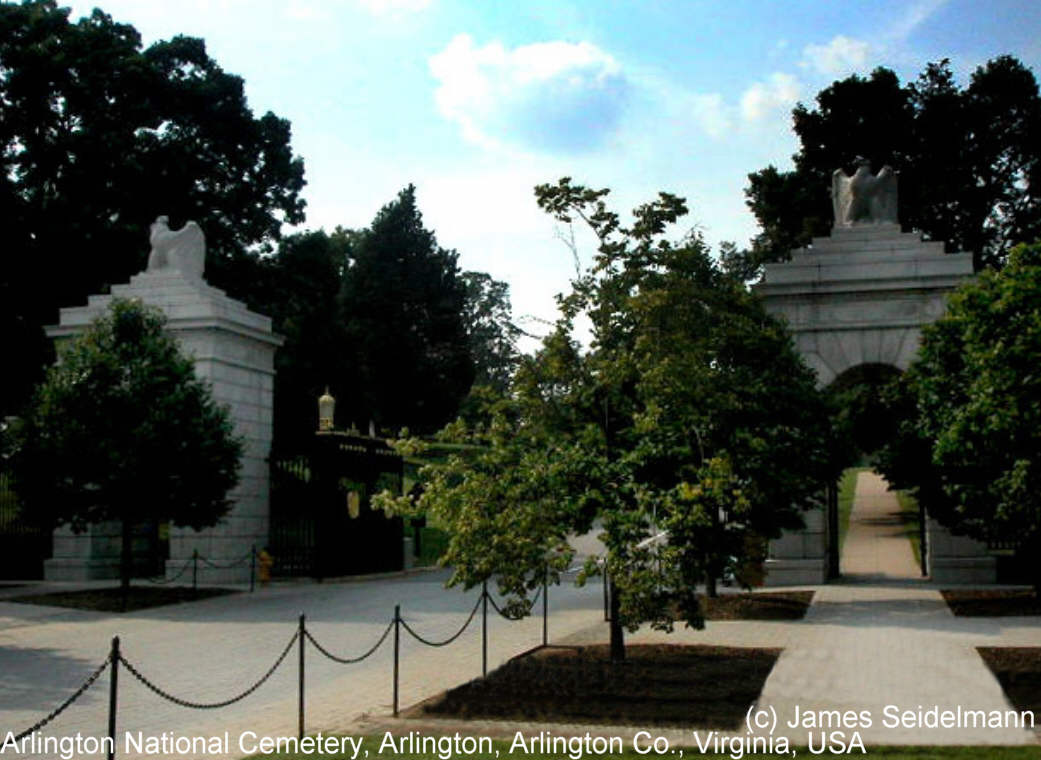 Notizen:
401.720 Graves (Jan 2019)
Memorial Ave, Arlington, Arlington County, Virginia, USA
Cemetery notes and/or description:
Postal Code: 22211
Phone: 001-703-607-8000
www.arlingtoncemetery.m...
Arlington National Cemetery, in Arlington, Virginia is a military cemetery in the United States, established during the American Civil War on the grounds of Arlington House, formerly the estate of the family of Robert E. Lee's wife Mary Anna (Custis) Lee, a descendant of Martha Washington. The cemetery is situated directly across the Potomac River from Washington, D.C. and near The Pentagon. It is served by the Arlington Cemetery station on the Blue Line of the Washington Metro system.
More than 300,000 people are buried in an area of 624 acres (2.53 km2). Veterans and military casualties from every one of the nation's wars are interred in the cemetery, from the American Revolution through the military actions in Afghanistan and Iraq. Pre-Civil War dead were reinterred after 1900.
Arlington shares with Mill Springs National Cemetery, the only other open cemetery in the system, the distinction of being the oldest military burial ground in the United States.
The first soldier to be buried in Arlington was Private William Henry Christman of Pennsylvania on May 13, 1864.
Arlington National Cemetery and United States Soldiers' and Airmen's Home National Cemetery are administered by the Department of the Army. The other National Cemeteries are administered by the Department of Veterans Affairs or by the National Park Service.
Arlington House (Custis-Lee Mansion) and its grounds are administered by the National Park Service as a memorial to Lee. (information courtesy of Wikipedia)
The Arlington National Cemetery website contains specific information about the history of the cemetery as well as in-depth visitor information.
Geographische Breite: 38.8783252, Geographische Länge: -77.068671
Friedhofs-Fotos
Vorschaubild
Beschreibung

1

Frederick Augustus Muhlenberg
Arlington National Cemetery, Arlington, Arlington County, Virginia, USA

2

John Charles Kennedy
Arlington National Cemetery, Arlington, Arlington County, Virginia, USA

3

Ronald Lloyd Kuhl
Arlington National Cemetery, Arlington, Arlington County, Virginia, USA

4

Young, Elizabeth
Arlington National Cemetery, Arlington, Arlington County, Virginia, USA
Alle Beerdigungen
#

Nachname, Taufnamen

Begraben

Personen-Kennung

1.
Blau, Elizabeth Helene
gest. 11 Apr 1996
Arlington National Cemetery, Arlington, Arlington County, Virginia, USA
I229245
2.
Kennedy, John Charles
gest. 15 Jan 2001
Arlington National Cemetery, Arlington, Arlington County, Virginia, USA
I191748
3.
Kuhl, Ronald Lloyd
gest. 4 Jan 1999
Arlington National Cemetery, Arlington, Arlington County, Virginia, USA
I35203
4.
Muhlenberg, Frederick Augustus
gest. 19 Jan 1980
Arlington National Cemetery, Arlington, Arlington County, Virginia, USA
I177894
5.
Pryplesh, Stephen
gest. 17 Mrz 2006
Arlington National Cemetery, Arlington, Arlington County, Virginia, USA
I229246
6.
Wolfe, Gay Raymond
gest. 20 Jun 1985
Arlington National Cemetery, Arlington, Arlington County, Virginia, USA
I17863
7.
Young, Elizabeth
gest. 1967
Arlington National Cemetery, Arlington, Arlington County, Virginia, USA
I177895