Roselawn Cemetery, Fort Collins, Larimer County, Colorado, USA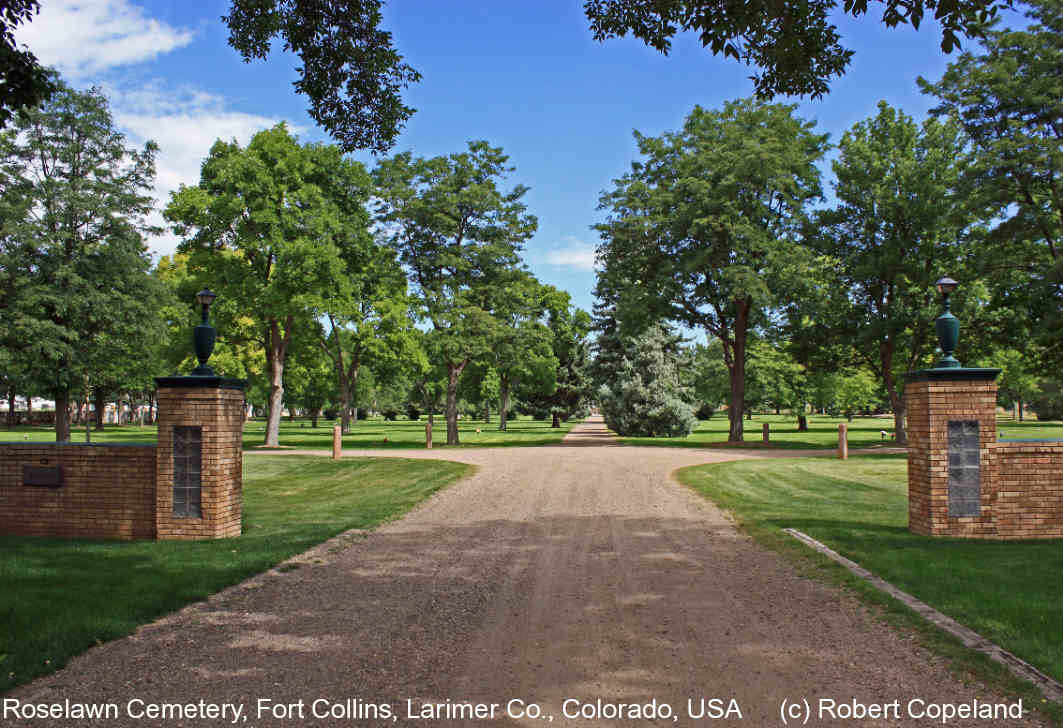 Notizen:
Cemetery notes and/or description:
Roselawn, located on East Mulberry, was established by a private association in 1947 to accommodate additional burial space and provide a garden-type cemetery.
The City of Fort Collins took over the operation of Roselawn in 1959. To alleviate a high water table in the area, the facility was equipped with an underground tile drain system and has not experienced high water levels in over 30 years.
Roselawn provides nearly 30 acres of beautiful trees and shrubs, manicured lawns, and a magnificent view of the foothills. Over 2700 burials have been performed at the cemetery, and many improvements have been made to enhance the landscape and entrance to the facility.
Roselawn is operated by the City of Fort Collins Parks and Recreation Department. For further information, call the Cemetery Division.
Geographische Breite: 40.583589750126556, Geographische Länge: -105.02479076385498
Friedhofs-Fotos
Vorschaubild
Beschreibung

1

Eleanor L. Nickerson
Roselawn Cemetery, Fort Collins, Larimer County, Colorado, USA

2

Leona L. Croissant
Roselawn Cemetery, Fort Collins, Larimer County, Colorado, USA

3

Rinehold Peter
Roselawn Cemetery, Fort Collins, Larimer County, Colorado, USA

4

Robert L. Croissant
Roselawn Cemetery, Fort Collins, Larimer County, Colorado, USA
Alle Beerdigungen
#

Nachname, Taufnamen

Begraben

Personen-Kennung

1.
Berscheid, Kathryn Barbara
gest. 17 Nov 1961
Roselawn Cemetery, Fort Collins, Larimer County, Colorado, USA
I206403
2.
Boyer, Jacob
gest. 16 Mrz 1971
Roselawn Cemetery, Fort Collins, Larimer County, Colorado, USA
I206402
3.
Croissant, Leona L. - wife of
gest. Datum unbekannt
Roselawn Cemetery, Fort Collins, Larimer County, Colorado, USA
I152546
4.
Croissant, Robert L.
gest. 12 Aug 2000
Roselawn Cemetery, Fort Collins, Larimer County, Colorado, USA
I152545
5.
Golden-Nollett, Richard Leon
begr. 4 Mai 1999
Roselawn Cemetery, Fort Collins, Larimer County, Colorado, USA
I36255
6.
Nickerson, Eleanor L.
begr. 15 Mrz 1974
Roselawn Cemetery, Fort Collins, Larimer County, Colorado, USA
I5397
7.
Peter, Rinehold I.
begr. 12 Okt 1973
Roselawn Cemetery, Fort Collins, Larimer County, Colorado, USA
I5396