Oak Hill Baptist Church Cemetery, Many, Sabine County, Louisiana, USA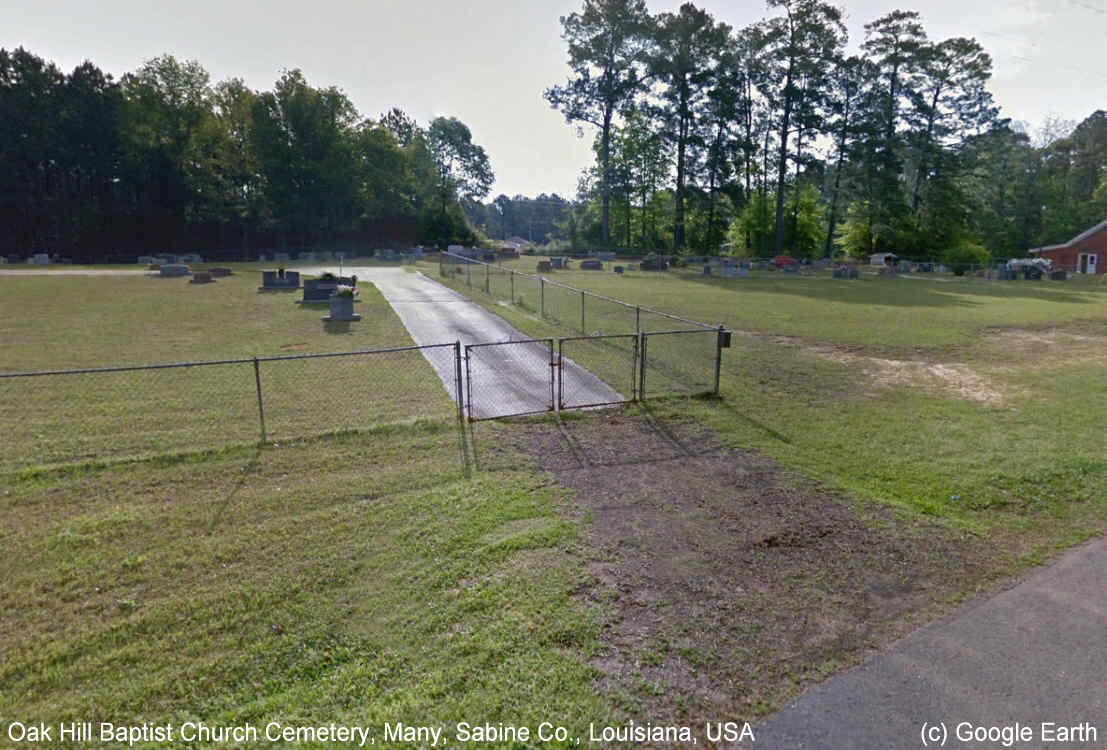 Notizen:
225 Graves (Okt 2020)
154 Pastor's Dr, Many, Sabine Parish, Louisiana, USA
Oak Hill Cemetery is located south of Hwy 6. From Toledo Town go east on Hwy 6 about 7.5 miles to Oak hill Rd. Go south on Oak Hill Rd. about 1 mile.
Friedhofs-Fotos
Vorschaubild
Beschreibung

1

Davidson, Irene Elizabeth
Oak Hill Baptist Church Cemetery, Many, Sabine Parish, Louisiana, USA

2

Tarpley, Robert Howard
Oak Hill Baptist Church Cemetery, Many, Sabine Parish, Louisiana, USA
Alle Beerdigungen
#

Nachname, Taufnamen

Begraben

Personen-Kennung

1.
Davidson, Irene Elizabeth
gest. 3 Feb 1990
Oak Hill Baptist Church Cemetery, Many, Sabine County, Louisiana, USA
I226370
2.
Tarpley, James R.
gest. 7 Sep 1952
Oak Hill Baptist Church Cemetery, Many, Sabine County, Louisiana, USA
I226372
3.
Tarpley, Robert Howard Sr.
gest. 15 Mrz 1998
Oak Hill Baptist Church Cemetery, Many, Sabine County, Louisiana, USA
I226371
4.
Tarpley, Robert Howard Jr.
gest. 7 Sep 1952
Oak Hill Baptist Church Cemetery, Many, Sabine County, Louisiana, USA
I226373