Saint Paul Cemetery, Floraville, Saint Clair County, Illinois, USA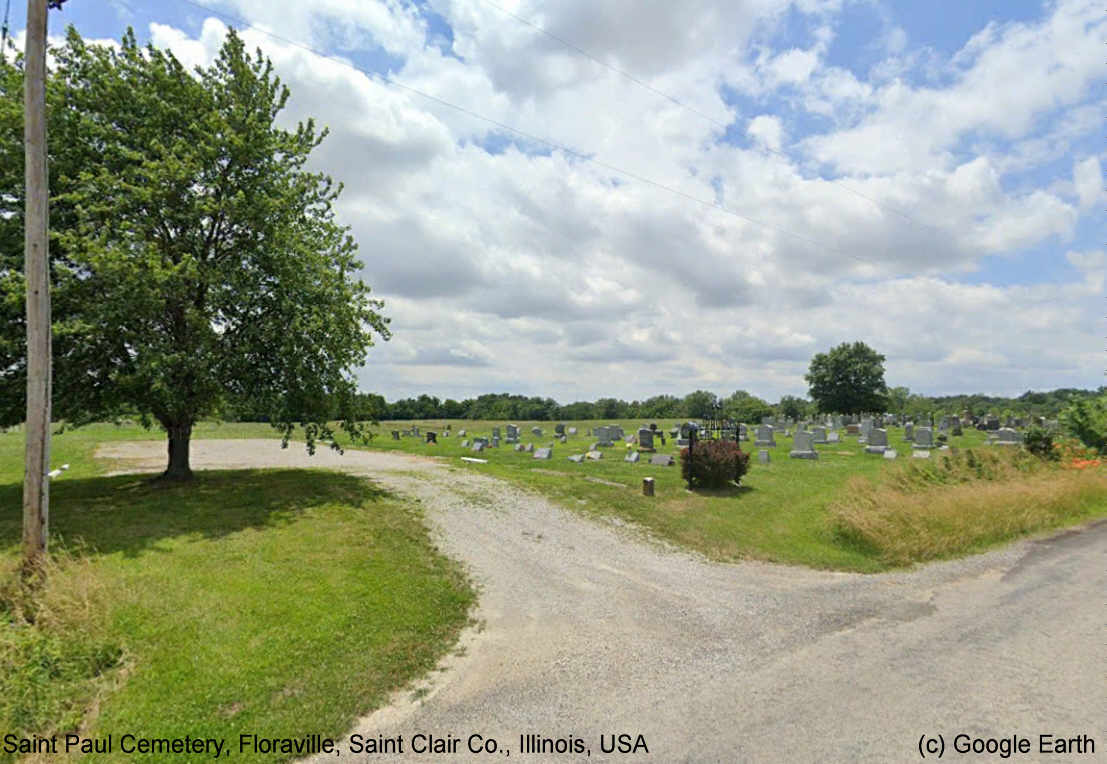 Notizen:
429 Graves (Jan 2020)
Waterloo Rd, Floraville, St. Clair County, Illinois, USA
Alias: Floraville Cemetery
Located in the NE 1/4 of the SW 1/4 of Section 11, Township 2 South, Range 9 West, South Part of Millstadt Township, St. Clair Co., IL. It is located on Waterloo Road, west of Floraville. This cemetery is the property of St. Paul's United Church of Christ, Floraville, IL and is still being used.
From Millstadt, IL go south on Floraville Road (County Road P60) for approximately 6 miles. Turn Right onto Waterloo Road (County Road J26). The cemetery is approximately 1/4 mile on your left.
Geographische Breite: 38.37440110000000000, Geographische Länge: -90.0610962
Friedhofs-Fotos
Vorschaubild
Beschreibung

1

German, Cora P.
Saint Paul Cemetery, Floraville, St. Clair County, Illinois, USA

2

Sensel, Elizabeth
Saint Paul Cemetery, Floraville, St. Clair County, Illinois, USA

3

Zimbelman, Eugene L.
Saint Paul Cemetery, Floraville, St. Clair County, Illinois, USA

4

Zimbelman, Louis I.
Saint Paul Cemetery, Floraville, St. Clair County, Illinois, US
Alle Beerdigungen
#

Nachname, Taufnamen

Begraben

Personen-Kennung

1.
German, Cora P.
gest. 3 Nov 1970
Saint Paul Cemetery, Floraville, Saint Clair County, Illinois, USA
I200901
2.
Sensel, Elizabeth
gest. 9 Feb 1960
Saint Paul Cemetery, Floraville, Saint Clair County, Illinois, USA
I200899
3.
Zimbelman, Eugene L.
gest. 16 Aug 1954
Saint Paul Cemetery, Floraville, Saint Clair County, Illinois, USA
I200900
4.
Zimbelman, Louis I. Jr.
begr. 8 Nov 1925
Saint Paul Cemetery, Floraville, Saint Clair County, Illinois, USA
I200898