Mount Evergreen Cemetery, Millstadt, Saint Clair County, Illinois, USA

OpenStreetMap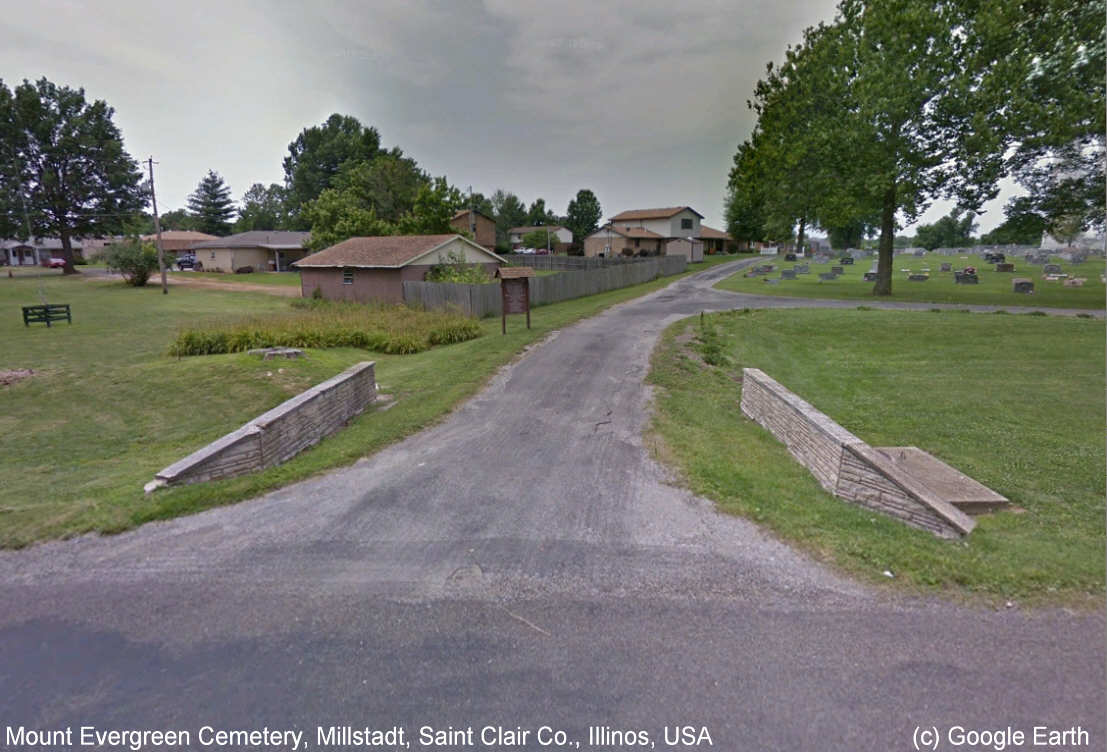 Notizen:
2.738 Graves (Jan 2020)
Saeger Rd, Millstadt, Saint Clair County, Illinois, USA
Mount Evergreen Cemetery is located in the northwest part of Millstadt , IL, on North Polk Street. The cemetery is owned by the Village of Millstadt which has records of those buried here. The cemetery was dedicated on January 16, 1908 with the first burial being William Schmahlenberger. The land for the cemetery was bought from William Hoeser (1867-1939) and the name of the cemetery was suggested by John W. Wagner (1864-1949). Some of the tombstones are for persons originally buried in Centreville Cemetery but were later moved to Mount Evergreen Cemetery. Information supplied by Bob Buecher, December 2013.
Friedhofs-Fotos
Vorschaubild
Beschreibung

1

Eileen B. Fromme
Mount Evergreen Cemetery, Millstadt, St. Clair County, Illinois, USA

2

Wilbur H. Toenjes
Mount Evergreen Cemetery, Millstadt, St. Clair County, Illinois, USA
Alle Beerdigungen
#

Nachname, Taufnamen

Begraben

Personen-Kennung

1.
Fromme, Eileen B.
gest. 28 Jul 1988
Mount Evergreen Cemetery, Millstadt, Saint Clair County, Illinois, USA
I210612
2.
Toenjes, Wilbur H.
gest. 5 Jul 1997
Mount Evergreen Cemetery, Millstadt, Saint Clair County, Illinois, USA
I210701