Saint Joseph Cemetery, West Roxbury, Suffolk County, Massachusetts, USA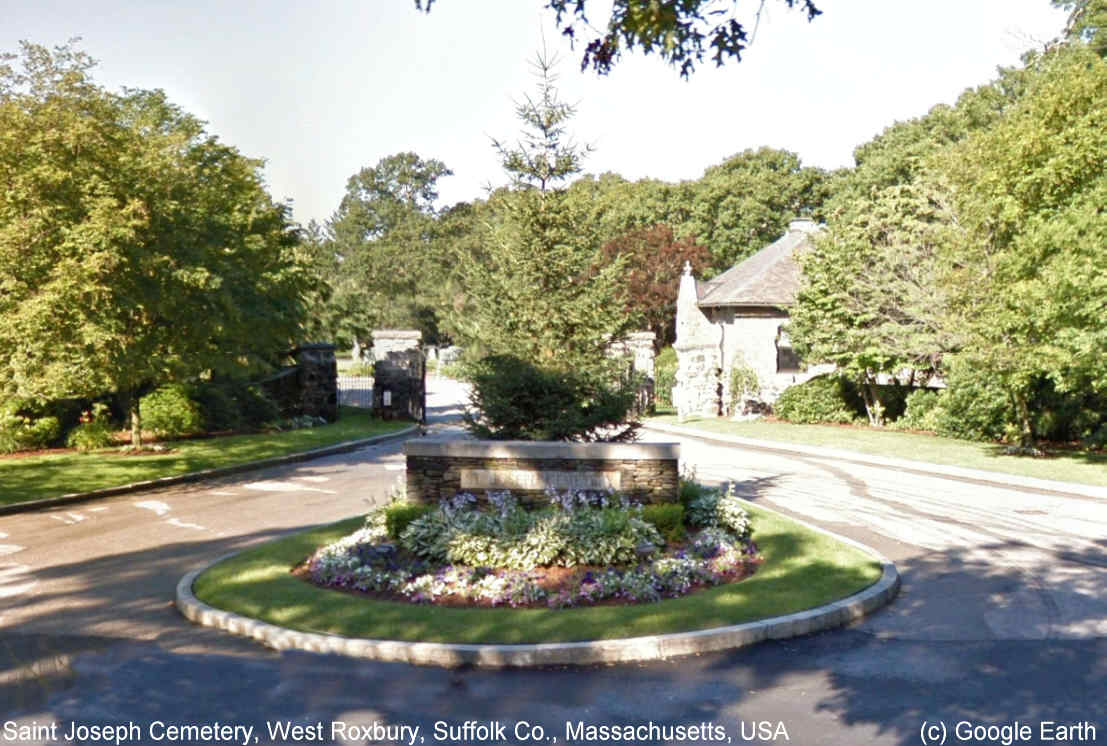 Notizen:
40.314 Graves (Dez 2018)
990 La Grange Street, West Roxbury, Suffolk County, Massachusetts, USA
Phone: 001-617-327-1010
The Saint Joseph Cemetery is run by the Holyhood Cemetery Association which was established in 1857 and incorporated in 1872. Although the Association has a strong Catholic heritage, it is a private, non-sectarian organization.
In 1888 the Directors of the Cemetery Association purchased additional land nearby the Holyhood Cemetery in West Roxbury to develop St. Joseph Cemetery. At about 200 acres, St. Joseph is one of the largest cemeteries in New England. Extensive landscape improvements have been carried out over the last ten years, and the main cemetery is almost fully developed.
In 1950, the directors of Holyhood opened a new section on VFW Parkway called St. James the Apostle.
This cemetery is referred to as BOS.820 Saint Joseph Cemetery in the "MACRIS survey of Massachusetts cemeteries."
Geographische Breite: 42.296140000000000, Geographische Länge: -71.17192
Friedhofs-Fotos
Vorschaubild
Beschreibung

1

Catharine T. Queeney
Saint Joseph Cemetery, West Roxbury, Suffolk County, Massachusetts, USA

2

Mary A. Kiernan
Saint Joseph Cemetery, West Roxbury, Suffolk County, Massachusetts, USA

3

William Albert Kiernan
Saint Joseph Cemetery, West Roxbury, Suffolk County, Massachusetts, USA

4

Winnefred A. Kiernan
Saint Joseph Cemetery, West Roxbury, Suffolk County, Massachusetts, USA
Alle Beerdigungen
#

Nachname, Taufnamen

Begraben

Personen-Kennung

1.
Kiernan, Mary A.
gest. 1995
Saint Joseph Cemetery, West Roxbury, Suffolk County, Massachusetts, USA
I190288
2.
Kiernan, Winnifred A.
gest. 1957
Saint Joseph Cemetery, West Roxbury, Suffolk County, Massachusetts, USA
I190286
3.
Queeney, Catherine T.
gest. 1958
Saint Joseph Cemetery, West Roxbury, Suffolk County, Massachusetts, USA
I190287