Calvary Cemetery and Mausoleum, Saint Louis City, Saint Louis County, Missouri, USA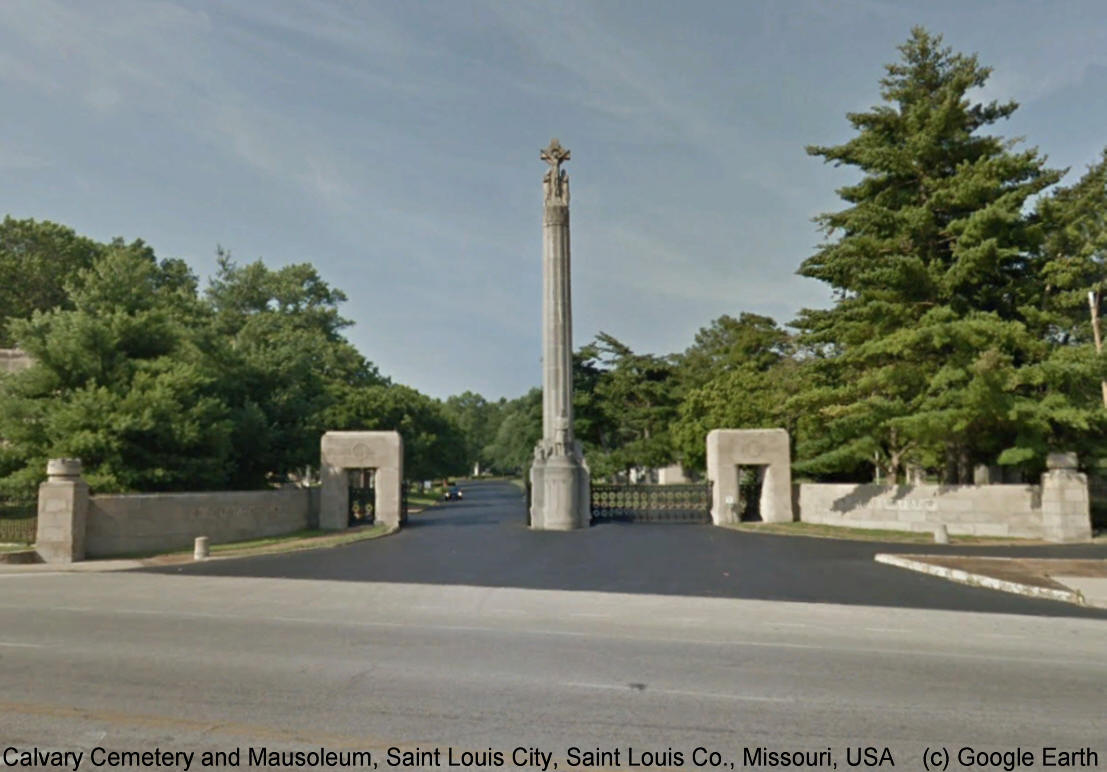 Notizen:
333.887 Graves (Jan 2020)
5239 West Florissant Avenue, Saint Louis City, Saint Louis Conty, Missouri, USA
Located in St. Louis, MO near Interstate 70 and the West Florissant Avenue exit, was founded for the Roman Catholic Archdiocese of St. Louis in 1857 by St. Louis Archbishop Peter Richard Kenrick, who is interred within. The Catholic Cemetery, one of the largest in the nation, contains the burials of more than 300,000 persons, among them Civil War general William T. Sherman, freed slave Dred Scott (namesake of the famed pre-Civil War Supreme Court case), 1960's humanitarian physician Dr. Tom Dooley, famed American playwright Tennessee Williams, federal judge Clyde Cahill, Jr., and numerous Catholic bishops, clergy, religious, politicians, sporting and literary figures, and immigrants who were instrumental in the development of the City of St. Louis and the Roman Catholic Church there. The beautifully landscaped perpetual care cemetery features two public mausoleums, fountains, and impressive Victorian and Gilded Age monuments and mausoleums of noted area families. The cemetery is still heavily patronized, and burials and committals are generally scheduled from 11 a.m. to 2 p.m.
Geographische Breite: 38.70330000000000, Geographische Länge: -90.2381
Friedhofs-Fotos
Vorschaubild
Beschreibung

1

Fiorito, Nicholas W.
Calvary Cemetery and Mausoleum, Saint Louis, Saint Louis City, Missouri, USA

2

Gutweiler, Anthony L.
Calvary Cemetery and Mausoleum, Saint Louis, Saint Louis City, Missouri, USA

3

Gutweiler, Catherine
Calvary Cemetery and Mausoleum, Saint Louis, Saint Louis City, Missouri, USA

4

Gutweiler, Eddie
Calvary Cemetery and Mausoleum, Saint Louis, Saint Louis City, Missouri, USA

5

Gutweiler, Frank A.
Calvary Cemetery and Mausoleum, Saint Louis, Saint Louis City, Missouri, USA

6

Gutweiler, Joseph
Calvary Cemetery and Mausoleum, Saint Louis, Saint Louis City, Missouri, USA

7

Gutweiler, Lucille M.
Calvary Cemetery and Mausoleum, Saint Louis, Saint Louis City, Missouri, USA

8

Gutweiler, Margaret
Calvary Cemetery and Mausoleum, Saint Louis, Saint Louis City, Missouri, USA

9

Gutweiler, Margaret
Calvary Cemetery and Mausoleum, Saint Louis, Saint Louis City, Missouri, USA

10

Gutweiler, Rose C.
Calvary Cemetery and Mausoleum, Saint Louis, Saint Louis City, Missouri, USA

11

Gutweiler, William J.
Calvary Cemetery and Mausoleum, Saint Louis, Saint Louis City, Missouri, USA

12

Looser, Sophia L.
Calvary Cemetery and Mausoleum, Saint Louis, Saint Louis City, Missouri, USA

13

Pille, Unbekannt
Calvary Cemetery and Mausoleum, Saint Louis, Saint Louis City, Missouri, USA

14

Pille, Unbekannt
Calvary Cemetery and Mausoleum, Saint Louis, Saint Louis City, Missouri, USA

15

Schimmelpfennig, Carl G.
Calvary Cemetery and Mausoleum, Saint Louis, Saint Louis City, Missouri, USA

16

Schimmelpfennig, Charles
Calvary Cemetery and Mausoleum, Saint Louis, Saint Louis City, Missouri, USA

17

Sensel, Erma Elizabeth
Calvary Cemetery and Mausoleum, Saint Louis, Saint Louis City, Missouri, USA

18

Zimpelmann, Edward George
Calvary Cemetery and Mausoleum, Saint Louis, Saint Louis City, Missouri, USA

19

Zimpelmann, Matilda B.
Calvary Cemetery and Mausoleum, Saint Louis, Saint Louis City, Missouri, USA
Alle Beerdigungen
#

Nachname, Taufnamen

Begraben

Personen-Kennung

1.
Dippel, Margaret
gest. 21 Sep 1910
Calvary Cemetery and Mausoleum, Saint Louis City, Saint Louis County, Missouri, USA
I188680
2.
Fiorito, Nicholas W.
gest. 9 Aug 1963
Calvary Cemetery and Mausoleum, Saint Louis City, Saint Louis County, Missouri, USA
I210746
3.
Gutweiler, Anthony L.
gest. 16 Aug 1895
Calvary Cemetery and Mausoleum, Saint Louis City, Saint Louis County, Missouri, USA
I188703
4.
Gutweiler, Catherine
gest. 26 Jul 1896
Calvary Cemetery and Mausoleum, Saint Louis City, Saint Louis County, Missouri, USA
I188694
5.
Gutweiler, Eddie
gest. 7 Jan 1888
Calvary Cemetery and Mausoleum, Saint Louis City, Saint Louis County, Missouri, USA
I188693
6.
Gutweiler, Frank A.
gest. 17 Okt 1904
Calvary Cemetery and Mausoleum, Saint Louis City, Saint Louis County, Missouri, USA
I188692
7.
Gutweiler, John E.
gest. Mrz 1894
Calvary Cemetery and Mausoleum, Saint Louis City, Saint Louis County, Missouri, USA
I188681
8.
Gutweiler, John J.
gest. 7 Mai 1887
Calvary Cemetery and Mausoleum, Saint Louis City, Saint Louis County, Missouri, USA
I188677
9.
Gutweiler, Joseph
gest. 23 Apr 1896
Calvary Cemetery and Mausoleum, Saint Louis City, Saint Louis County, Missouri, USA
I188679
10.
Gutweiler, Joseph L.
gest. 27 Sep 1954
Calvary Cemetery and Mausoleum, Saint Louis City, Saint Louis County, Missouri, USA
I188684
11.
Gutweiler, Katie - wife of
gest. Dez 1970
Calvary Cemetery and Mausoleum, Saint Louis City, Saint Louis County, Missouri, USA
I188685
12.
Gutweiler, Lucille M.
gest. 5 Sep 1979
Calvary Cemetery and Mausoleum, Saint Louis City, Saint Louis County, Missouri, USA
I188688
13.
Gutweiler, Margaret
gest. 12 Dez 1919
Calvary Cemetery and Mausoleum, Saint Louis City, Saint Louis County, Missouri, USA
I188704
14.
Gutweiler, Rose C.
gest. 1 Feb 1963
Calvary Cemetery and Mausoleum, Saint Louis City, Saint Louis County, Missouri, USA
I188686
15.
Gutweiler, William Jerome
gest. 25 Mrz 1964
Calvary Cemetery and Mausoleum, Saint Louis City, Saint Louis County, Missouri, USA
I188675
16.
Hauswald, Salome
gest. 7 Mrz 1903
Calvary Cemetery and Mausoleum, Saint Louis City, Saint Louis County, Missouri, USA
I188678
17.
Looser, Sophia L.
gest. 10 Okt 1961
Calvary Cemetery and Mausoleum, Saint Louis City, Saint Louis County, Missouri, USA
I188676
18.
Ludwig, Benedict J.
gest. Jul 1926
Calvary Cemetery and Mausoleum, Saint Louis City, Saint Louis County, Missouri, USA
I188683
19.
Pille, Joseph H.
gest. Apr 1972
Calvary Cemetery and Mausoleum, Saint Louis City, Saint Louis County, Missouri, USA
I188707
20.
Pille, Unbekannt
gest. Apr 1925
Calvary Cemetery and Mausoleum, Saint Louis City, Saint Louis County, Missouri, USA
I188708
21.
Pille, Unbekannt
gest. Mai 1927
Calvary Cemetery and Mausoleum, Saint Louis City, Saint Louis County, Missouri, USA
I188709
22.
Schimmelpfennig, Carl G.
gest. 2 Feb 1895
Calvary Cemetery and Mausoleum, Saint Louis City, Saint Louis County, Missouri, USA
I188705
23.
Schimmelpfennig, Charles
gest. 28 Mrz 1895
Calvary Cemetery and Mausoleum, Saint Louis City, Saint Louis County, Missouri, USA
I188710
24.
Schimmelpfennig, Genevieve
gest. Jan 1990
Calvary Cemetery and Mausoleum, Saint Louis City, Saint Louis County, Missouri, USA
I188711
25.
Schimmelpfennig, Margaret
gest. Okt 1972
Calvary Cemetery and Mausoleum, Saint Louis City, Saint Louis County, Missouri, USA
I188706
26.
Sensel, Erma Elizabeth
gest. 26 Jan 2007
Calvary Cemetery and Mausoleum, Saint Louis City, Saint Louis County, Missouri, USA
I210745
27.
Zimbelmann, Matilda B. - wife of
gest. 17 Jan 1982
Calvary Cemetery and Mausoleum, Saint Louis City, Saint Louis County, Missouri, USA
I203960
28.
Zimmerman, Emma
gest. Mai 1949
Calvary Cemetery and Mausoleum, Saint Louis City, Saint Louis County, Missouri, USA
I188682
29.
Zimpelmann, Edward George
gest. 18 Mrz 1958
Calvary Cemetery and Mausoleum, Saint Louis City, Saint Louis County, Missouri, USA
I203959