Rock Island National Cemetery, Rock Island, Rock Island County, Illinois, USA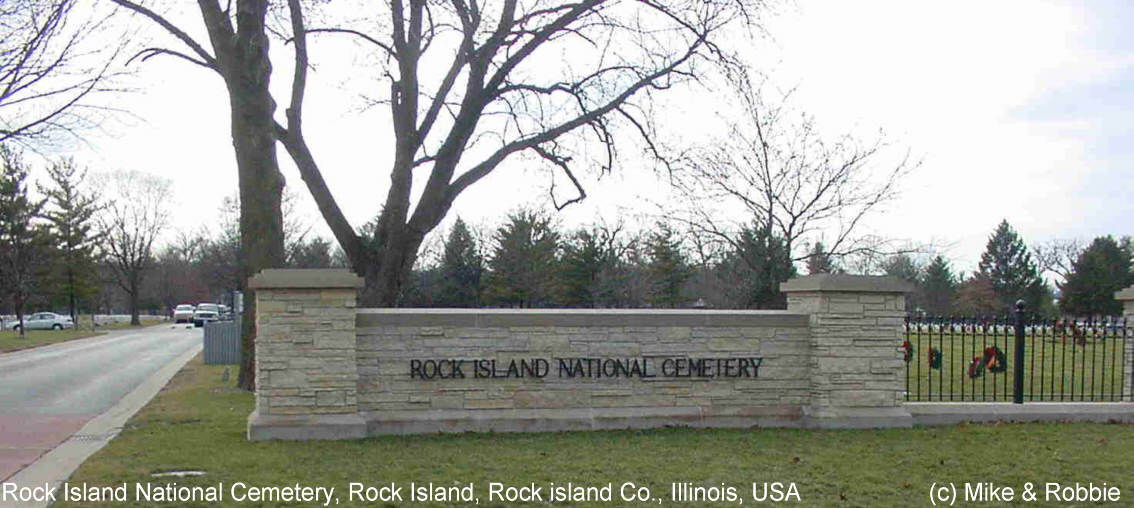 Notizen:
33.570 Graves (Sep 2018)
Rodman Avenue, Rock Island, Rock Island County, Illinois, USA
Also known as Rock Island Arsenal Post Cemetery,
Rock Island Prison Barracks Union Cemetery
PHONE: 309-782-2094
The cemetery was formed as a burial ground for Union guards from the Rock Island Prison Barracks, and "galvanized Yankees" (Confederate prisoners who opted to take the Oath of Allegiance to the Union and serve as Union soldiers rather than return to the South). It was originally located farther west on Rodman Avenue, in a spot that is now part of the Arsenal Golf Course, across the street from Memorial Park. It was moved to its current location, on the east end of Arsenal Island, at the request of General Thomas Rodman, the second commander of the Arsenal. At the time of the move, several soldiers were also moved from Oakdale Cemetery in Davenport to the new National Cemetery. It adjoined the Arsenal Post Cemetery, which has now been absorbed as part of the National Cemetery. At least some graves were also moved at this time from the old Fort Armstrong Post Cemetery.
To reach the cemetery, enter the Rock Island Arsenal from either the Davenport or Rock Island gates (the Moline Gate is closed for the forseeable future). Please be advised that the Rock Island Arsenal is located on a federal military installation and requires a security check in order to access the installation and visit the cemetery. All visitors are required to enter the Rock Island Arsenal over the Moline Bridge, which is accessed from 14th Street, Moline IL and stop at the visitor center for a rapid background check and to obtain a visitor pass. The Moline gate visitor center hours are Monday through Friday 6:00 am to 3:00 pm, and Saturday & Sunday 7:00 am to 3:00 pm. For detailed instructions go to: www.usagria.army.mil/AccessRequests/
The Rock Island National Cemetery will be almost immediately on the left hand side of Rodman Avenue after you go through the gate, just past a golf driving range. There is a kiosk at the Administration building with a gravesite locator and a map of the cemetery. For more information on the cemetery call 309-782-2094 or go to: www.cem.va.gov/cems/nchp/rockisland.asp
The Rock Island Confederate Cemetery, a second cemetery which contains the burial of about 1,950 Confederate prisoners of war, is also here. It is further down Rodman Avenue, past the main entrance to the National Cemetery, and accessed by a pull off along the road in front of it.
Friedhofs-Fotos
Vorschaubild
Beschreibung

1

Darrell P. Kilzer
Rock Island National Cemetery, Rock Island, Rock Island County, Illinois, USA, PLOT: R - 438
Alle Beerdigungen
#

Nachname, Taufnamen

Begraben

Personen-Kennung

1.
Kilzer, Darrell P.
gest. 13 Jan 1992
Rock Island National Cemetery, Rock Island, Rock Island County, Illinois, USA
I183136