Golden Gate National Cemetery, San Bruno, San Mateo County, California, USA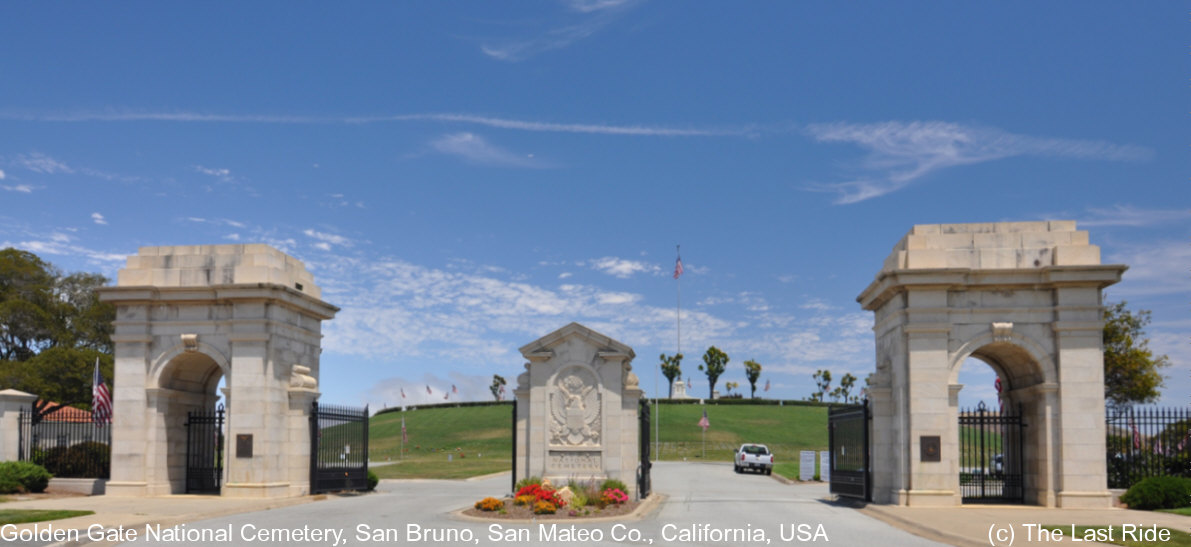 Notizen:
144.071 Graves (Aug 2019)
1300 Sneath Lane, San Bruno, San Mateo County, California, USA
Golden Gate National Cemetery occupies 161 acres in the city of San Bruno, which is 12 miles south of San Francisco. Congress authorized its construction in 1937, and interments began in 1941. The cemetery was officially dedicated on Memorial Day 1942, which fell on May 30 that year. It is among a host of veterans' cemeteries begun in the 1930s and completed in the 1940s in cities across the country that were home to large numbers of veterans. It is closed to new interments, but subsequent interments of veterans and/or eligible family members that share an existing gravesite can be made. Golden Gate National Cemetery should not be confused with the San Francisco National Cemetery, which was established during the 1800s in the city's Presidio.
Geographische Breite: 37.6368802, Geographische Länge: -122.4282074
Friedhofs-Fotos
Vorschaubild
Beschreibung

1

Burnet, Azalea
Golden Gate National Cemetery, San Bruno, San Mateo County, California, USA

2

Cuthbert, Joseph Robert
Golden Gate National Cemetery, San Bruno, San Mateo County, California, USA

3

Engelhardt, Elmer M.
Golden Gate National Cemetery, San Bruno, San Mateo County, California, USA

4

Geesry, Ruth Louise
Golden Gate National Cemetery, San Bruno, San Mateo County, California, USA

5

Janis, Maree Bertha
Golden Gate National Cemetery, San Bruno, San Mateo County, California, USA

6

Lehr, Hilda
Golden Gate National Cemetery, San Bruno, San Mateo County, California, USA

7

McNulty, Patrick Peter
Golden Gate National Cemetery, San Bruno, San Mateo County, California, USA

8

Miller, Katherine
Golden Gate National Cemetery, San Bruno, San Mateo County, California, USA

9

Walth, Julius
Golden Gate National Cemetery, San Bruno, San Mateo County, California, USA

10

Zimbelman, Harry
Golden Gate National Cemetery, San Bruno, San Mateo County, California, USA
Alle Beerdigungen
#

Nachname, Taufnamen

Begraben

Personen-Kennung

1.
Buerg, Isobel Edith
gest. 18 Aug 1977
Golden Gate National Cemetery, San Bruno, San Mateo County, California, USA
I234748
2.
Burnet, Azalea
gest. 20 Apr 1985
Golden Gate National Cemetery, San Bruno, San Mateo County, California, USA
I6462
3.
Cuthbert, Joseph Robert
gest. 23 Jun 1981
Golden Gate National Cemetery, San Bruno, San Mateo County, California, USA
I5928
4.
Engelhardt, Elmer M.
gest. 24 Jan 1966
Golden Gate National Cemetery, San Bruno, San Mateo County, California, USA
I203198
5.
Flint, John Andrew
begr. 22 Mai 1957
Golden Gate National Cemetery, San Bruno, San Mateo County, California, USA
I233120
6.
Geesey, Ruth Louise
gest. 31 Dez 1956
Golden Gate National Cemetery, San Bruno, San Mateo County, California, USA
I2353
7.
Gore, Grant
begr. 14 Mrz 1945
Golden Gate National Cemetery, San Bruno, San Mateo County, California, USA
I27036
8.
Janis, Maree Bertha
gest. 19 Aug 2000
Golden Gate National Cemetery, San Bruno, San Mateo County, California, USA
I202123
9.
Korb, Emma Margret
begr. 29 Sep 1983
Golden Gate National Cemetery, San Bruno, San Mateo County, California, USA
I233119
10.
Lehr, Hilda
gest. 25 Dez 1960
Golden Gate National Cemetery, San Bruno, San Mateo County, California, USA
I170691
11.
McNulty, Patrick Peter
gest. 3 Mai 1967
Golden Gate National Cemetery, San Bruno, San Mateo County, California, USA
I5910
12.
Miller, Katherine
gest. 19 Mai 1988
Golden Gate National Cemetery, San Bruno, San Mateo County, California, USA
I5908
13.
Pippus, Adolph Jr.
gest. 24 Dez 1948
Golden Gate National Cemetery, San Bruno, San Mateo County, California, USA
I234743
14.
Pippus, John Albert
gest. 22 Mai 1951
Golden Gate National Cemetery, San Bruno, San Mateo County, California, USA
I234747
15.
Pippus, Jonathan Cole
gest. 2 Mai 1954
Golden Gate National Cemetery, San Bruno, San Mateo County, California, USA
I234749
16.
Ramsay, John Allan Jr.
begr. 24 Dez 1965
Golden Gate National Cemetery, San Bruno, San Mateo County, California, USA
I26317
17.
Sheafe, Ruth Margaret
gest. 10 Okt 1986
Golden Gate National Cemetery, San Bruno, San Mateo County, California, USA
I230593
18.
Tupper, Max Lynn
begr. 30 Mrz 1962
Golden Gate National Cemetery, San Bruno, San Mateo County, California, USA
I26328
19.
Tupper, Nancy - wife of
begr. 16 Feb 1968
Golden Gate National Cemetery, San Bruno, San Mateo County, California, USA
I26329
20.
Walth, Julius
gest. 1 Dez 1987
Golden Gate National Cemetery, San Bruno, San Mateo County, California, USA
I84699
21.
Warren, Herbert Sr.
gest. 3 Mai 1971
Golden Gate National Cemetery, San Bruno, San Mateo County, California, USA
I234745
22.
Warren, Herbert Jr.
gest. 28 Jan 2011
Golden Gate National Cemetery, San Bruno, San Mateo County, California, USA
I234746
23.
Zimbelman, Harry
gest. 28 Dez 2003
Golden Gate National Cemetery, San Bruno, San Mateo County, California, USA
I2351