Saint George's Parish Cemetery, Irvine, Division No.1, Alberta, Canada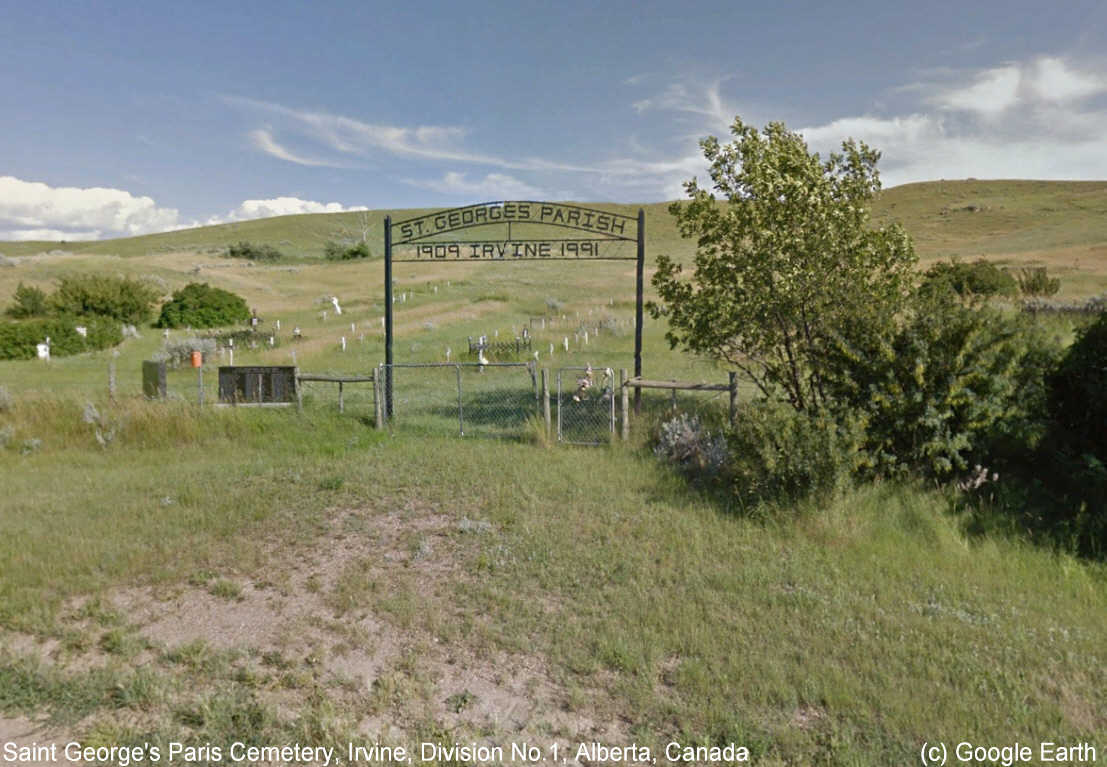 Notizen:
268 Graves (Jul 2018)
Township Hwy 115A (Bull Trail), Irvine, Medicine Hat Census Division, Alberta, Canada
Known as St.George's Cemetery or St. George's Parish Cemetery or Saint George's Parish Cemetery
Travel east from Medicine Hat, Alberta, Canada to Irvine, Alberta Canada. Turn south on Twnship Rd 115A, (Bull Trail) travel about 1 km. The large cemetery is located on the east side. The main gate reads "St. George's Cemetery", as this site was originally under the auspices of St. George's Church of England (Anglican) parish. There are two large marble site markers with the names of most of the persons buried in the graveyard. There are many grave markers and many ironwork markers showing the German/Russian influence.
Geographische Breite: 49.9508784, Geographische Länge: -110.2902356
Friedhofs-Fotos
Vorschaubild
Beschreibung

1

Christian König
Saint George's Parish Cemetery, Irvine, Medicine Hat Census Division, Alberta, Canada

2

Regina Mack
Saint George's Parish Cemetery, Irvine, Medicine Hat Census Division, Alberta, Canada

3

Samuel Kalmbach
Saint George's Parish Cemetery, Irvine, Medicine Hat Census Division, Alberta, Canada
Alle Beerdigungen
#

Nachname, Taufnamen

Begraben

Personen-Kennung

1.
Kalmbach, Samuel
gest. 29 Aug 1922
Saint George's Parish Cemetery, Irvine, Division No.1, Alberta, Canada
I179325
2.
König, Christian
gest. 8 Aug 1931
Saint George's Parish Cemetery, Irvine, Division No.1, Alberta, Canada
I203013
3.
Mack, Regina
gest. 11 Sep 1925
Saint George's Parish Cemetery, Irvine, Division No.1, Alberta, Canada
I203012
4.
Wolf, Rosina
gest. 22 Apr 1964
Saint George's Parish Cemetery, Irvine, Division No.1, Alberta, Canada
I179317