Friedhof Kassel, Kassel, Gebiet Glückstal, Region Odessa, Rußland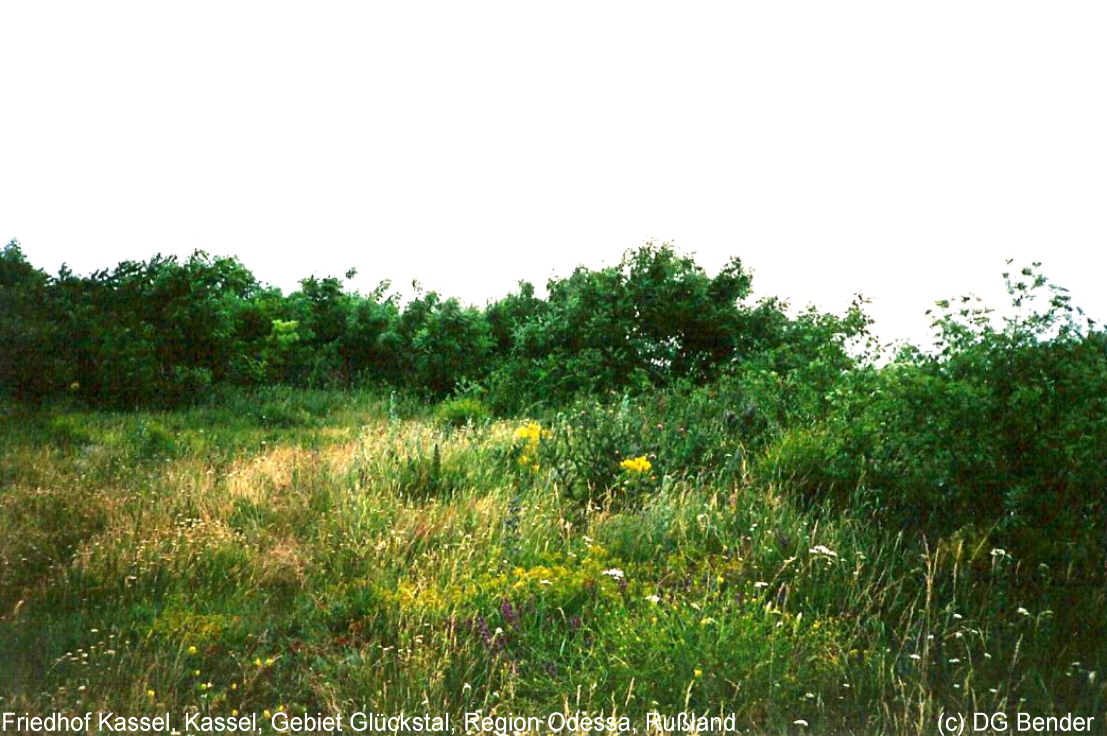 Notizen:
75 Graves (Mai 2018)
Velykokomarivka, Odes'ka, Ukraine
Cemetery notes and/or description:
Kassel, Glueckstal, Odessa, South Russia currently Velykokomarivka, Odes'ka, Ukraine
Description and Photo by Elaine (Becker) MORRISON:
The Kassel Cemetery is east of, but adjacent to, the village (established in about 1810).
To reach the German section, a person will drive on a narrow road, past the Ukrainian burials. Beyond that section is a dense growth of vegetation, trees and shrubbery. The German section is so dense that it is almost impossible to penetrate more than a few feet.
On my last visit in 2011, I saw no evidence of grave markers, but in 1996 we did see small pieces of broken tombstones. Also, in 1996 there appeared to be evidence of an attempt to clear the area. At that time we found a piece of cranial bone, identified by the suture lines on the bone.
When this photo was taken in 1996 it was possible to walk through part of the area that was then not overgrown with vegetation.
Geographische Breite: 47.0861975, Geographische Länge: 29.6576711
Alle Beerdigungen
#

Nachname, Taufnamen

Begraben

Personen-Kennung

1.
Becker, Catharina Elisabetha
begr. 26 Okt 1845
Friedhof Kassel, Kassel, Gebiet Glückstal, Region Odessa, Rußland
I60627
2.
Brandt, Andreas
gest. 18 Apr 1838
Friedhof Kassel, Kassel, Gebiet Glückstal, Region Odessa, Rußland
I118198
3.
Brandt, Gottlieb
gest. 9 Jan 1839
Friedhof Kassel, Kassel, Gebiet Glückstal, Region Odessa, Rußland
I118197
4.
Brandt, Jacob
gest. 24 Dez 1838
Friedhof Kassel, Kassel, Gebiet Glückstal, Region Odessa, Rußland
I118196
5.
Brandt, Jakob
gest. 4 Dez 1860
Friedhof Kassel, Kassel, Gebiet Glückstal, Region Odessa, Rußland
I118190
6.
Brandt, Johann
gest. 24 Dez 1879
Friedhof Kassel, Kassel, Gebiet Glückstal, Region Odessa, Rußland
I118195
7.
Brandt, Johann Jacob
gest. 28 Apr 1854
Friedhof Kassel, Kassel, Gebiet Glückstal, Region Odessa, Rußland
I61326
8.
Brandt, Magdalena
begr. 17 Sep 1870
Friedhof Kassel, Kassel, Gebiet Glückstal, Region Odessa, Rußland
I61331
9.
Feldner, Susanna Rosina Maria
gest. 8 Jan 1839
Friedhof Kassel, Kassel, Gebiet Glückstal, Region Odessa, Rußland
I55099
10.
Frey, Christina
gest. 26 Mai 1884
Friedhof Kassel, Kassel, Gebiet Glückstal, Region Odessa, Rußland
I170638
11.
Frey, Heinrich
gest. 25 Aug 1876
Friedhof Kassel, Kassel, Gebiet Glückstal, Region Odessa, Rußland
I60638
12.
Frey, Katharina
gest. 2 Sep 1876
Friedhof Kassel, Kassel, Gebiet Glückstal, Region Odessa, Rußland
I60635
13.
Göhring, Andreas
gest. 8 Dez 1884
Friedhof Kassel, Kassel, Gebiet Glückstal, Region Odessa, Rußland
I60994
14.
Göhring, Johann
gest. vor Aug 1876
Friedhof Kassel, Kassel, Gebiet Glückstal, Region Odessa, Rußland
I60997
15.
Hof, Johann Heinrich Sr.
gest. 5 Jul 1874
Friedhof Kassel, Kassel, Gebiet Glückstal, Region Odessa, Rußland
I93977
16.
Job, Magdalena
gest. 15 Jul 1882
Friedhof Kassel, Kassel, Gebiet Glückstal, Region Odessa, Rußland
I86282
17.
Junkert, Katharina
gest. 1811
Friedhof Kassel, Kassel, Gebiet Glückstal, Region Odessa, Rußland
I60709
18.
Ketterling, Margaretha
gest. Datum unbekannt
Friedhof Kassel, Kassel, Gebiet Glückstal, Region Odessa, Rußland
I60553
19.
Knapp, Margaretha
gest. 30 Aug 1868
Friedhof Kassel, Kassel, Gebiet Glückstal, Region Odessa, Rußland
I116186
20.
Körner, Eva Katharina
gest. 11 Feb 1859
Friedhof Kassel, Kassel, Gebiet Glückstal, Region Odessa, Rußland
I60628
21.
Lehr, Andreas
gest. 22 Feb 1855
Friedhof Kassel, Kassel, Gebiet Glückstal, Region Odessa, Rußland
I60637
22.
Lehr, Barbara
begr. 20 Feb 1851
Friedhof Kassel, Kassel, Gebiet Glückstal, Region Odessa, Rußland
I60596
23.
Lehr, Catharina
gest. 9 Jun 1846
Friedhof Kassel, Kassel, Gebiet Glückstal, Region Odessa, Rußland
I60547
24.
Lehr, Catharina
gest. 29 Nov 1840
Friedhof Kassel, Kassel, Gebiet Glückstal, Region Odessa, Rußland
I60630
25.
Lehr, Catharina
gest. vor 1851
Friedhof Kassel, Kassel, Gebiet Glückstal, Region Odessa, Rußland
I60633
26.
Lehr, Elisabeth
gest. 19 Mrz 1848
Friedhof Kassel, Kassel, Gebiet Glückstal, Region Odessa, Rußland
I60548
27.
Lehr, Eva
begr. 3 Mrz 1851
Friedhof Kassel, Kassel, Gebiet Glückstal, Region Odessa, Rußland
I60600
28.
Lehr, Friedrich
gest. 16 Nov 1847
Friedhof Kassel, Kassel, Gebiet Glückstal, Region Odessa, Rußland
I60597
29.
Lehr, Heinrich
gest. 26 Mai 1857
Friedhof Kassel, Kassel, Gebiet Glückstal, Region Odessa, Rußland
I60532
30.
Lehr, Heinrich
gest. 27 Okt 1845
Friedhof Kassel, Kassel, Gebiet Glückstal, Region Odessa, Rußland
I60624
31.
Lehr, Heinrich
gest. 6 Aug 1846
Friedhof Kassel, Kassel, Gebiet Glückstal, Region Odessa, Rußland
I60625
32.
Lehr, Heinrich Valentin
gest. 24 Jan 1860
Friedhof Kassel, Kassel, Gebiet Glückstal, Region Odessa, Rußland
I60555
33.
Lehr, Johann
gest. 12 Jun 1871
Friedhof Kassel, Kassel, Gebiet Glückstal, Region Odessa, Rußland
I60528
34.
Lehr, Johann
gest. nach 1883
Friedhof Kassel, Kassel, Gebiet Glückstal, Region Odessa, Rußland
I60530
35.
Lehr, Johann
gest. 13 Aug 1899
Friedhof Kassel, Kassel, Gebiet Glückstal, Region Odessa, Rußland
I60574
36.
Lehr, Katharina
gest. 26 Apr 1859
Friedhof Kassel, Kassel, Gebiet Glückstal, Region Odessa, Rußland
I60533
37.
Lehr, Katharina
gest. 30 Mrz 1885
Friedhof Kassel, Kassel, Gebiet Glückstal, Region Odessa, Rußland
I60571
38.
Lehr, Katharina
gest. 28 Nov 1855
Friedhof Kassel, Kassel, Gebiet Glückstal, Region Odessa, Rußland
I60602
39.
Lehr, Katharina
begr. 20 Dez 1878
Friedhof Kassel, Kassel, Gebiet Glückstal, Region Odessa, Rußland
I60610
40.
Lehr, Katharina Margaretha
gest. Datum unbekannt
Friedhof Kassel, Kassel, Gebiet Glückstal, Region Odessa, Rußland
I170553
41.
Lehr, Ludwig
gest. 28 Jan 1836
Friedhof Kassel, Kassel, Gebiet Glückstal, Region Odessa, Rußland
I60614
42.
Lehr, Ludwig
gest. 8 Mrz 1845
Friedhof Kassel, Kassel, Gebiet Glückstal, Region Odessa, Rußland
I60623
43.
Lehr, Ludwig
gest. 8 Mrz 1843
Friedhof Kassel, Kassel, Gebiet Glückstal, Region Odessa, Rußland
I60631
44.
Lehr, Ludwig Friedrich
gest. 5 Feb 1836
Friedhof Kassel, Kassel, Gebiet Glückstal, Region Odessa, Rußland
I60529
45.
Lehr, Magdalena
gest. 4 Jan 1868
Friedhof Kassel, Kassel, Gebiet Glückstal, Region Odessa, Rußland
I60634
46.
Lehr, Peter
gest. 19 Jan 1866
Friedhof Kassel, Kassel, Gebiet Glückstal, Region Odessa, Rußland
I99164
47.
Lehr, Unbekannt
gest. 20 Okt 1859
Friedhof Kassel, Kassel, Gebiet Glückstal, Region Odessa, Rußland
I60521
48.
Lehr, Unbekannt
gest. 12 Feb 1853
Friedhof Kassel, Kassel, Gebiet Glückstal, Region Odessa, Rußland
I60549
49.
Lehr, Unbekannt
gest. 15 Dez 1839
Friedhof Kassel, Kassel, Gebiet Glückstal, Region Odessa, Rußland
I60629
50.
Lehr, Unbekannt
gest. 11 Feb 1859
Friedhof Kassel, Kassel, Gebiet Glückstal, Region Odessa, Rußland
I60640
51.
Lehr, Unbekannt
gest. 30 Nov 1864
Friedhof Kassel, Kassel, Gebiet Glückstal, Region Odessa, Rußland
I170665
52.
Lehr, Valentin
gest. 9 Aug 1874
Friedhof Kassel, Kassel, Gebiet Glückstal, Region Odessa, Rußland
I60621
53.
Mettler, Johann Friedrich
gest. 1813
Friedhof Kassel, Kassel, Gebiet Glückstal, Region Odessa, Rußland
I55098
54.
Neuhardt, Salomea
begr. 31 Jan 1852
Friedhof Kassel, Kassel, Gebiet Glückstal, Region Odessa, Rußland
I171031
55.
Pietz, Friedrich
gest. 14 Nov 1855
Friedhof Kassel, Kassel, Gebiet Glückstal, Region Odessa, Rußland
I67154
56.
Pietz, Friedrich
gest. 14 Jan 1863
Friedhof Kassel, Kassel, Gebiet Glückstal, Region Odessa, Rußland
I67157
57.
Pietz, Friedrich
gest. 4 Mrz 1875
Friedhof Kassel, Kassel, Gebiet Glückstal, Region Odessa, Rußland
I67161
58.
Pietz, Katharina
gest. 2 Nov 1878
Friedhof Kassel, Kassel, Gebiet Glückstal, Region Odessa, Rußland
I67187
59.
Pietz, Ludwig
gest. 4 Mrz 1862
Friedhof Kassel, Kassel, Gebiet Glückstal, Region Odessa, Rußland
I67133
60.
Pietz, Magdalena
gest. 21 Mrz 1867
Friedhof Kassel, Kassel, Gebiet Glückstal, Region Odessa, Rußland
I67159
61.
Pietz, Michael
gest. 3 Mrz 1885
Friedhof Kassel, Kassel, Gebiet Glückstal, Region Odessa, Rußland
I67189
62.
Pietz, Philipp
gest. 4 Mrz 1885
Friedhof Kassel, Kassel, Gebiet Glückstal, Region Odessa, Rußland
I67188
63.
Pietz, Philippina
gest. 25 Jan 1859
Friedhof Kassel, Kassel, Gebiet Glückstal, Region Odessa, Rußland
I67156
64.
Pietz, Phillipina
gest. vor Okt 1878
Friedhof Kassel, Kassel, Gebiet Glückstal, Region Odessa, Rußland
I67117
65.
Pietz, Rosina
gest. 26 Jan 1867
Friedhof Kassel, Kassel, Gebiet Glückstal, Region Odessa, Rußland
I67160
66.
Pietz, Unbekannt
gest. 9 Sep 1870
Friedhof Kassel, Kassel, Gebiet Glückstal, Region Odessa, Rußland
I67185
67.
Reich, Carolina
gest. 5 Apr 1876
Friedhof Kassel, Kassel, Gebiet Glückstal, Region Odessa, Rußland
I60618
68.
Schwab, Maria Elisabetha
gest. 4 Jan 1846
Friedhof Kassel, Kassel, Gebiet Glückstal, Region Odessa, Rußland
I93975
69.
Wahl, Georg Heinrich
gest. 26 Dez 1858
Friedhof Kassel, Kassel, Gebiet Glückstal, Region Odessa, Rußland
I49754
70.
Wahl, Unbekannt
gest. 12 Jan 1854
Friedhof Kassel, Kassel, Gebiet Glückstal, Region Odessa, Rußland
I49750