Lakewood Cemetery, Minneapolis, Hennepin County, Minnesota, USA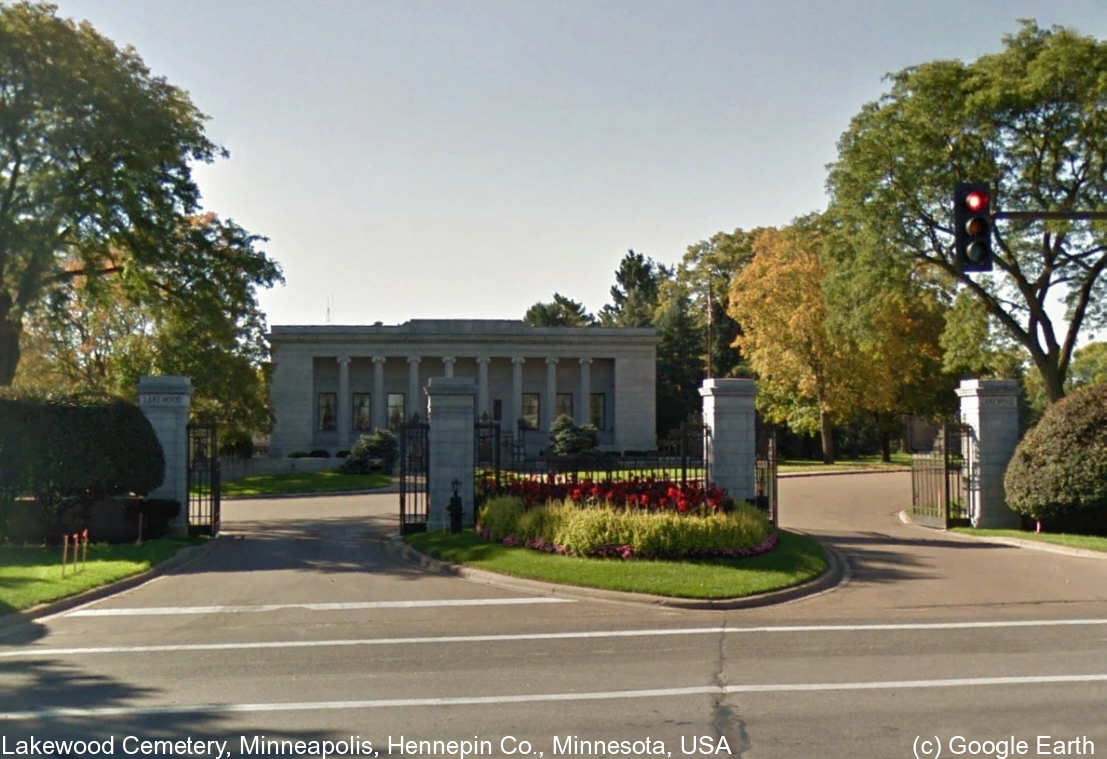 Notizen:
158.692 Graves (Oct 2017)
W36th St, Minneapolis, Hennepin County, Minnesota, USA
Cemetery notes and/or description:
www.lakewoodcemetery.co...
The City of Minneapolis began as a riverfront outpost in the 1840's when Colonel John Stevens built the first permanent residence. A settlement grew during the following decades as trapping and trading were supplanted with farming, lumber, and flour milling industries.
Lakewood Cemetery was established in 1871, four years after Minneapolis was incorporated. This cemetery site was located in the countryside, nestled between Lakes Harriet and Calhoun. Early visitors traveled to Lakewood by horse and buggy on rutted dirt roads. They would come to pay respects to loved ones and enjoy the park-like grounds with its many monuments. The natural aggressive terrain and majestic oak trees were an additional lure to its visitors.
By 1895, the Lake Harriet Streetcar brought people to the cemetery from their homes in and around downtown Minneapolis. The fare was a nickel. A restored rail section and several streetcars still provide nostalgic rides outside the western boundary of the cemetery. By comparison, the cemetery is no longer "out in the countryside", rather the City of Minneapolis has grown to encompass it and far beyond. Today Lakewood resides within the city limits, not even considered to be in a suburb.
Lakewood Cemetery has one of the largest cemetery greenhouse operations in the United States. Groundskeepers plant nearly 100,000 flowers each season, including many unusual plant species found nowhere else in the state. Many pampered flower gardens will be found throughout the grounds. The maintenance crews keep the grass mowed, bushes trimmed, and the in-ground markers neatly edged.
You can visit the cemetery office and pick up a free brochure titled Lakewood Cemetery - A Self-Guided Tour which contains full color pictures, history, and a map with 49 key features identified. These include prominent industry leaders, politicians, and service memorials. The walking tour takes 2 to 3 hours to complete.
Lakewood Cemetery is a nonprofit association governed by a board of trustees. Their gates are open 7 days a week, including holidays, at 8:00 am. Closing times vary from 8:00 pm in the summer to 5:00 pm during the winter.
The administration building is open Mon-Fri 8:00 am to 4:30 pm, and Saturday 8:00 am to noon.
Lakewood Cemetery, 3600 Hennepin Avenue, Minneapolis, MN, 55408
(612) 822-2171
Additional note: A special area of Lakewood cemetery is managed by the University of Minnesota Medical Department. In Section 40 you will find a single monument dedicated to those who gifted their remains through the Anatomy Bequest Program. Burials in this area are unmarked. The Lakewood Cemetery Association does not keep records of these interments. Confirmation of burials can be made through the University of Minnesota.
Friedhofs-Fotos
Vorschaubild
Beschreibung

1

Alice Louise Thopmpson
Lakewood Cemetery, Minneapolis, Hennepin County, Minnesota, USA, Plot: Section 60 Lot 606 Grave 2, GPS (lat/lon): 44.93485, -93.29743

2

Dettmer L. Wahl
Lakewood Cemetery, Minneapolis, Hennepin County, Minnesota, USA, Plot: Section 60 Lot 606 Grave 1, GPS (lat/lon): 44.93486, -93.29747
Alle Beerdigungen
#

Nachname, Taufnamen

Begraben

Personen-Kennung

1.
Bauer, Irene
gest. 21 Jun 2000
Lakewood Cemetery, Minneapolis, Hennepin County, Minnesota, USA
I198576
2.
Thomas, Robert S.
gest. 17 Jan 1961
Lakewood Cemetery, Minneapolis, Hennepin County, Minnesota, USA
I173686
3.
Thompson, Alice Louise
gest. 28 Jul 1997
Lakewood Cemetery, Minneapolis, Hennepin County, Minnesota, USA
I170384
4.
Wahl, Dettmer L.
gest. 17 Mai 1973
Lakewood Cemetery, Minneapolis, Hennepin County, Minnesota, USA
I170383