Maple Grove Cemetery, Dodge City, Ford County, Kansas, USA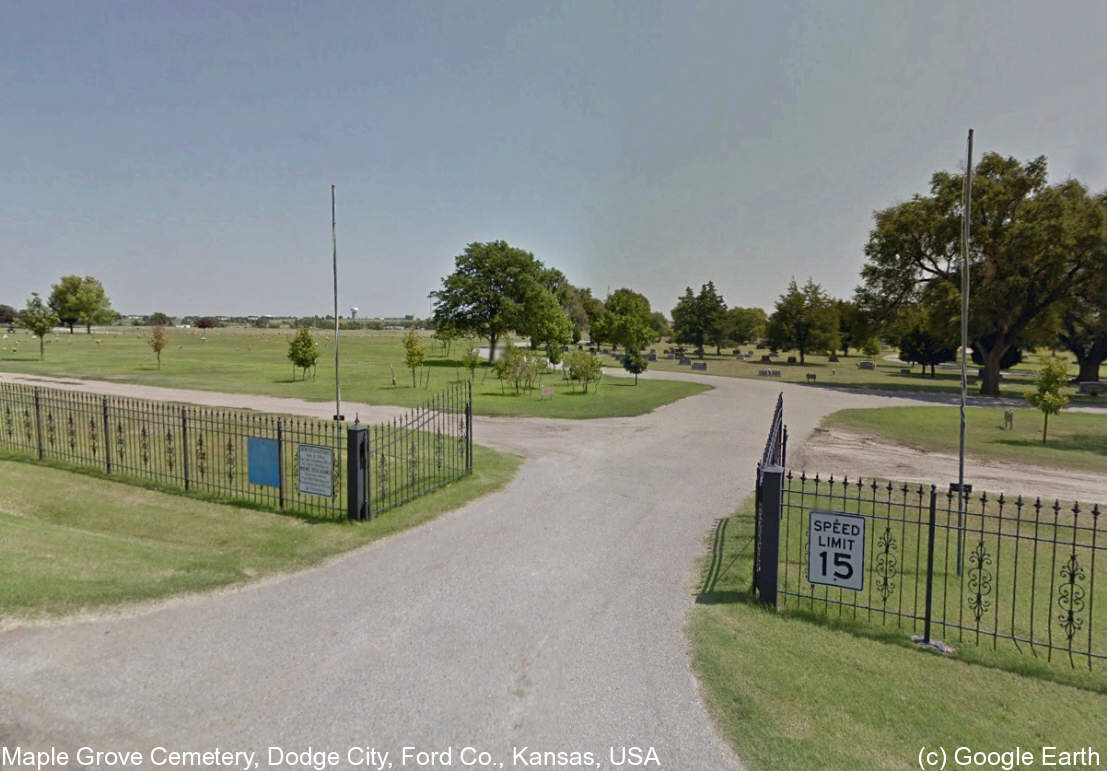 Notizen:
13.380 Graves (Jul 2017)
1100 Matt Down Rd, Dodge City, Ford County, Kansas, USA
Cemetery notes and/or description:
Also known as: Greencrest Memorial Gardens
Postal Code: 67801
Phone: (620) 225-8140
Maple Grove Cemetery is the city owned cemetery and Greencrest Memorial Gardens was previously a private cemetery. Management of this cemetery has been taken over by the city during the 1990's. Greencrest is on the west side of Matt Down Lane and is now referred to as Maple Grove West and the old Maple Grove is on the east side of Matt Down Lane. These cemeteries have been combined for the purposes of Findagrave. Please use the "add plot" to add location details to the memorials.
Please do not use Maple Grove Cemetery for burials at the Scroggins Mausoleum. The mausoleum has its own cemetery designation here at Findagrave.
Geographische Breite: 37.7609709, Geographische Länge: -100.04925300000002
Friedhofs-Fotos
Vorschaubild
Beschreibung

1

Ferdinand M. Gales
Maple Grove Cemetery, Dodge City, Ford County, Kansas, USA

2

Ruth C. Malone
Maple Grove Cemetery, Dodge City, Ford County, Kansas, USA
Alle Beerdigungen
#

Nachname, Taufnamen

Begraben

Personen-Kennung

1.
Gales, Ferdinand M.
gest. 18 Jun 1971
Maple Grove Cemetery, Dodge City, Ford County, Kansas, USA
I147399
2.
Gales, Pauline Susan
gest. 26 Dez 1965
Maple Grove Cemetery, Dodge City, Ford County, Kansas, USA
I167177
3.
Malone, Ruth C.
gest. 26 Sep 1995
Maple Grove Cemetery, Dodge City, Ford County, Kansas, USA
I147400
4.
Simmons, James Joseph
gest. 26 Sep 1965
Maple Grove Cemetery, Dodge City, Ford County, Kansas, USA
I167178
5.
Simmons, Todd Girard
gest. 26 Dez 1965
Maple Grove Cemetery, Dodge City, Ford County, Kansas, USA
I167179