San Francisco National Cemetery, San Francisco, San Francisco County, California, USA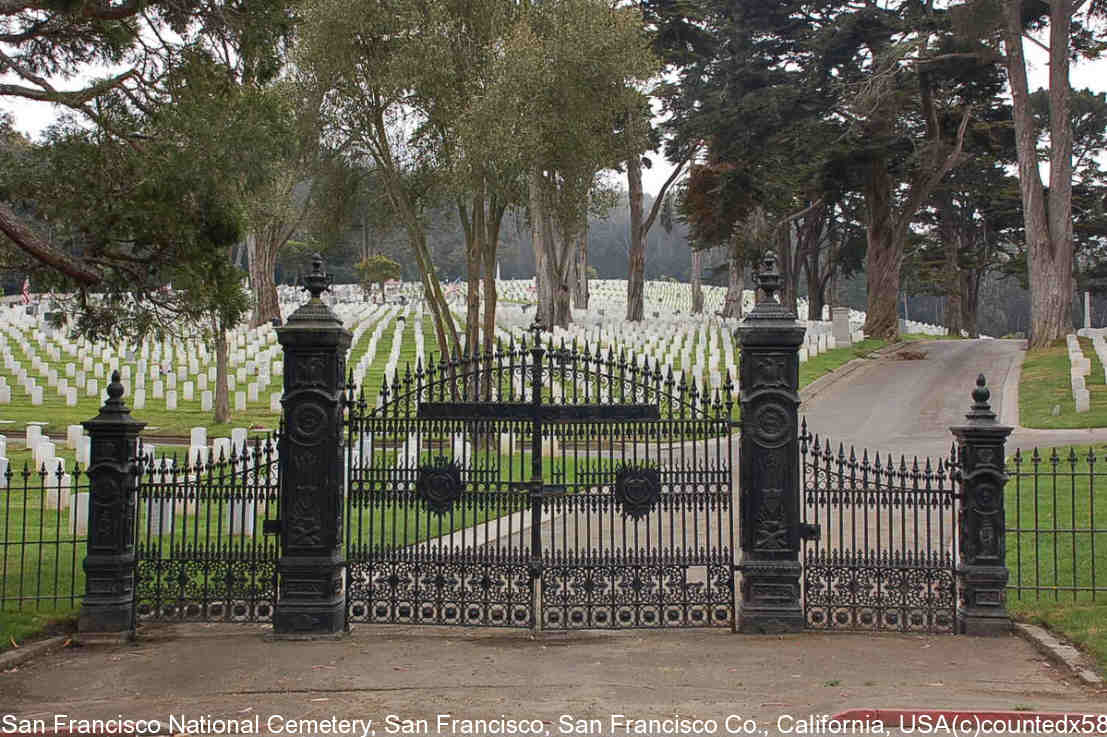 Notizen:
32.220 Graves (Mai 2017)
1 Lincoln Blvd, San Francisco, San Francisco County, California, USA
Cemetery notes and/or description:
Also known as: Post Cemetery, Presidio Cemetery
Postal Code: 94129
Phone: 650-589-7737
www.cem.va.gov/cems/nch...
This hallowed ground, established December 12, 1884, by a general order signed by command of Lieutenant General Sheridan and Adjutant General R. C. Drum became the first West Coast cemetery to be part of the national cemetery system. The first interment was July 23, 1852 and it became a National Cemetery in 1884. This cemetery is closed to new interments.
On July 19, 1922, 38 bodies were unearthed in an isolated spot of the Presidio. The bones were believed the remains of early Spanish conquistadores who founded the local fortification. The bodies of 474 unknown dead sent here from early Western frontier camps and stations in the Philippine islands have been buried in one grave. In all, the National Cemetery lists 510 unknown bodies.
Friedhofs-Fotos
Vorschaubild
Beschreibung

1

Frances Louise Klein
San Francisco National Cemetery, San Francisco, San Francisco County, California, USA, Plot: EE, 0, 39-A

2

Mark C. B. Klunk
San Francisco National Cemetery, San Francisco, San Francisco County, California, USA
Alle Beerdigungen
#

Nachname, Taufnamen

Begraben

Personen-Kennung

1.
Klein, Frances Louise
gest. 1 Mrz 1995
San Francisco National Cemetery, San Francisco, San Francisco County, California, USA
I165205
2.
Klunk, Col. Mark C. B.
gest. 6 Jun 2010
San Francisco National Cemetery, San Francisco, San Francisco County, California, USA
I165203