Friedens Cemetery Mausoleum and Chapel, Bellefontaine Neighbors, Saint Louis County, Missouri, USA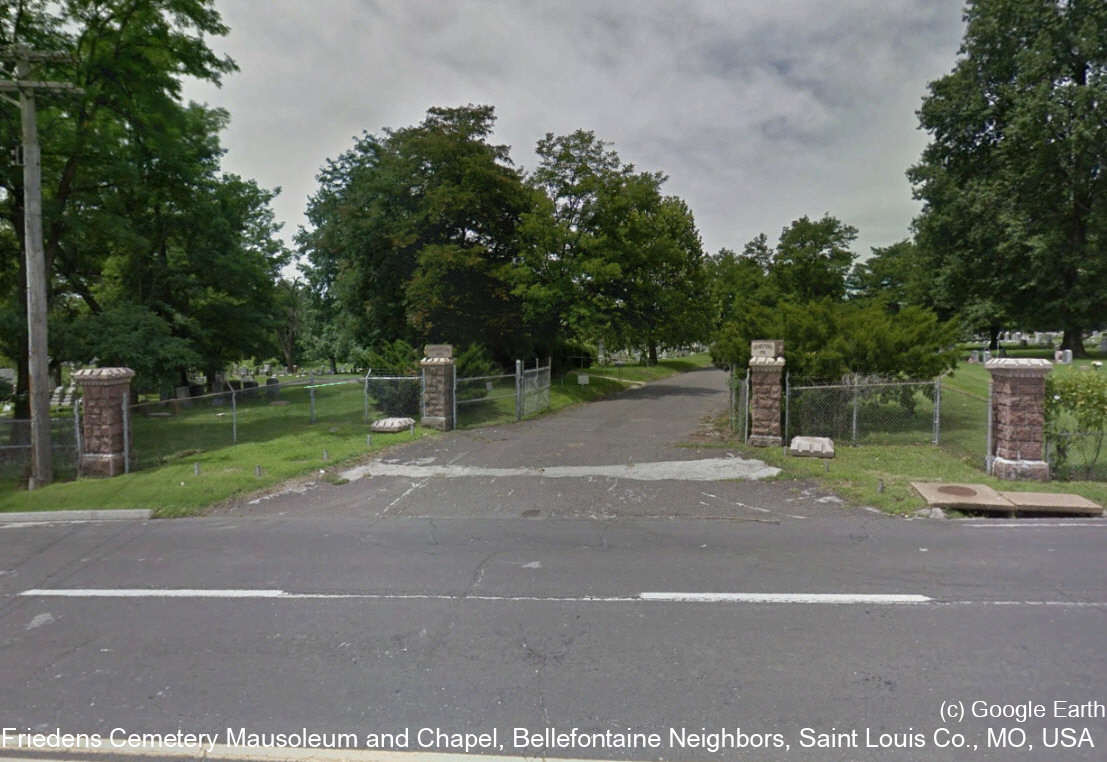 Notizen:
28.108 Graves (Apr 2017)
Cemetery notes and/or description:
8941 Broadway, Bellefontaine Neighbors, St. Louis County, Missouri, USA
Postal Code: 63137-1002
Phone: (314) 867-5126
Also known as: Friedens Evangelical Cemetery
Opened in 1864 by Friedens Evangelical and Reformed Church. Originally named E and R Cemetery, later named Kopf Cemetery. The cemetery is located at 8941 N. Broadway near Riverview Dr. at the city boundary. This address is at Bellefontaine Rd. just south of Bellefontaine Neighbors.
Records prior to 1900 no longer exist.
Geographische Breite: 38.7284848, Geographische Länge: -90.230906
Friedhofs-Fotos
Vorschaubild
Beschreibung

1

Ida May Wharton
Friedens Cemetery Mausoleum and Chapel, Bellefontaine Neighbors, St. Louis County, Missouri, USA, Plot: Section A, Lot 35 A

2

Mary Ellen Maxfield
Friedens Cemetery Mausoleum and Chapel, Bellefontaine Neighbors, St. Louis County, Missouri, USA, Plot: Section A, Lot 35A

3

Robert Relin Ellington
Friedens Cemetery Mausoleum and Chapel, Bellefontaine Neighbors, St. Louis County, Missouri, USA, Plot: Section A, Lot 35A
Alle Beerdigungen
#

Nachname, Taufnamen

Begraben

Personen-Kennung

1.
Ellington, Dorothy Maxine
gest. 14 Dez 1932
Friedens Cemetery Mausoleum and Chapel, Bellefontaine Neighbors, Saint Louis County, Missouri, USA
I164232
2.
Ellington, Robert Relin
gest. 25 Mai 1977
Friedens Cemetery Mausoleum and Chapel, Bellefontaine Neighbors, Saint Louis County, Missouri, USA
I164231
3.
Maxfield, George J.
gest. 16 Dez 1947
Friedens Cemetery Mausoleum and Chapel, Bellefontaine Neighbors, Saint Louis County, Missouri, USA
I164229
4.
Maxfield, Mary Ellen
gest. 15 Apr 1956
Friedens Cemetery Mausoleum and Chapel, Bellefontaine Neighbors, Saint Louis County, Missouri, USA
I164230
5.
Wharton, Ida May
gest. 24 Mrz 1927
Friedens Cemetery Mausoleum and Chapel, Bellefontaine Neighbors, Saint Louis County, Missouri, USA
I164228