Chapel Hill Memorial Gardens, Osceola, Saint Joseph County, Indiana, USA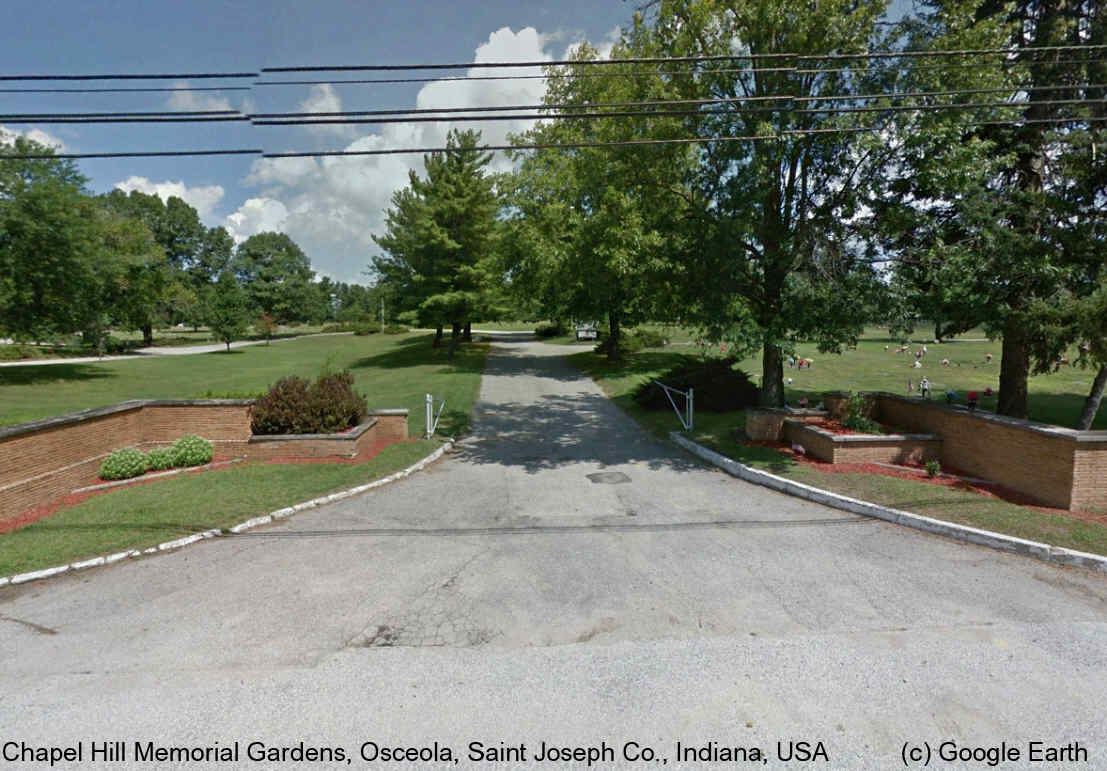 Notizen:
22.442 Graves (Aug 2020)
10776 McKinley Hwy, Osceola, St. Joseph County, Indiana, USA
Also known as: Osceola Chapel Hill Memorial Gardens
May 26, 2012: Management at Chapel Hill Memorial Gardens has stated that Family Liaison people will work with family members directly to provide locations and photos. As a result, they will not assist Find A Grave photo volunteers in locating burial locations.
The cemetery is located in Penn Township on the north side of Jefferson Road about 0.3 miles east of its intersection with Birch Road. The cemetery was established in 1949.
Indiana Cemetery Locations, Volume 3, published by the Indiana Genealogical Society (April 2007), gives the primary cemetery name as Chapel Hill Cemetery.
The cemetery is listed in the Cemetery and Burial Grounds Registry of the Indiana Department of Natural Resources (DNR) and in the State Historical Architectural and Archaeological Research Database (SHAARD) with Cemetery Record Number CR-71-30 (Chapel Hills Memorial Gardens).
The U.S. Geological Survey (USGS) Geographic Names Information System (GNIS) feature ID for the cemetery is 452566 (Chapel Hill Memorial Gardens).
Geographische Breite: 41.6801427, Geographische Länge: -86.0788786
Friedhofs-Fotos
Vorschaubild
Beschreibung

1

Marsh, Calvin Max
Chapel Hill Memorial Gardens, Osceola, St. Joseph County, Indiana, USA

2

Shinkle, Aline G.
Chapel Hill Memorial Gardens, Osceola, St. Joseph County, Indiana, USA

3

Shinkle, Wallace Leslie
Chapel Hill Memorial Gardens, Osceola, St. Joseph County, Indiana, USA

4

Zimpelmann, Daisy L.
Chapel Hill Memorial Gardens, Osceola, St. Joseph County, Indiana, USA

5

Zimpleman, Juanita
Chapel Hill Memorial Gardens, Osceola, St. Joseph County, Indiana, USA
Alle Beerdigungen
#

Nachname, Taufnamen

Begraben

Personen-Kennung

1.
Marsh, Calvin Max
gest. 25 Okt 2014
Chapel Hill Memorial Gardens, Osceola, Saint Joseph County, Indiana, USA
I193013
2.
Shinkle, Aline G. - wife of
gest. Datum unbekannt
Chapel Hill Memorial Gardens, Osceola, Saint Joseph County, Indiana, USA
I163984
3.
Shinkle, Wallace Leslie
gest. 1990
Chapel Hill Memorial Gardens, Osceola, Saint Joseph County, Indiana, USA
I163983
4.
Zimpelmann, Daisy L.
gest. 14 Jul 1963
Chapel Hill Memorial Gardens, Osceola, Saint Joseph County, Indiana, USA
I192283
5.
Zimpleman, Juanita
gest. 22 Dez 1991
Chapel Hill Memorial Gardens, Osceola, Saint Joseph County, Indiana, USA
I192154