Little Plume Evangelical Cemetery, Medicine Hat, Division No.1, Alberta, Canada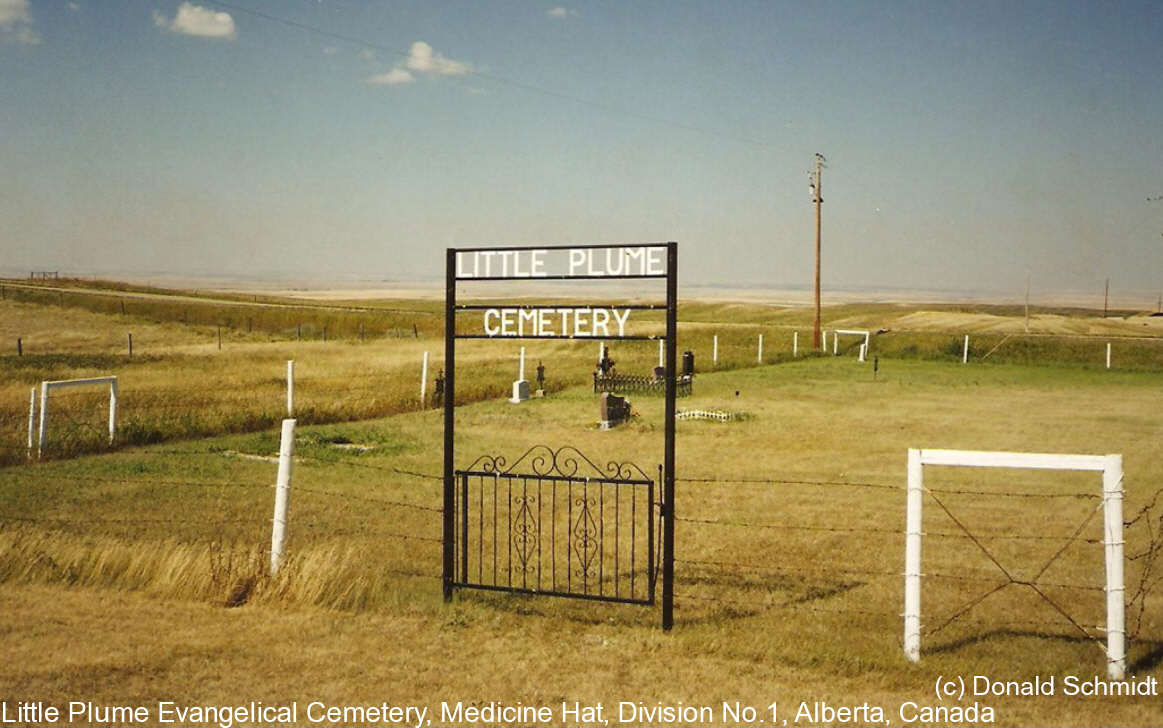 Notizen:
41 Graves (Apr 2017)
Cemetery notes and/or description:
Township Rd 100, Medicine Hat, Medicine Hat Census Division, Alberta, Canada
The decision to build this church was made February 24, 1919. This building was destroyed by fire in spring 1921. The second church was dedicated August 07, 1921.
An Alberta Government grant in 1974, allowed the cemetery restoration.
The church and cemetery are on NW 36-09-05-W4 and can be found by traaveling south of Medicine Hat, Alberta, on the Eagle Butte Road or range road 51 to the junction with township road 100.
Geographische Breite: 49.785631076686165, Geographische Länge: -110.56908845901489
Friedhofs-Fotos
Vorschaubild
Beschreibung

1

John W. Schorr
Little Plume Evangelical Cemetery, Medicine Hat, Medicine Hat Census Division, Alberta, Canada

2

Rosie Anna Eisenbarth
Little Plume Evangelical Cemetery, Medicine Hat, Medicine Hat Census Division, Alberta, Canada

3

Vernon J. Schorr
Little Plume Evangelical Cemetery, Medicine Hat, Medicine Hat Census Division, Alberta, Canada
Alle Beerdigungen
#

Nachname, Taufnamen

Begraben

Personen-Kennung

1.
Eisenbarth, Rosie Anna
gest. 18 Jun 1987
Little Plume Evangelical Cemetery, Medicine Hat, Division No.1, Alberta, Canada
I163487
2.
Schorr, John W.
gest. 22 Mrz 1998
Little Plume Evangelical Cemetery, Medicine Hat, Division No.1, Alberta, Canada
I163488
3.
Schorr, Rev Vernon J.
gest. 30 Jun 1994
Little Plume Evangelical Cemetery, Medicine Hat, Division No.1, Alberta, Canada
I163491