East Lawn Memorial Park, Sacramento, Sacramento County, California, USA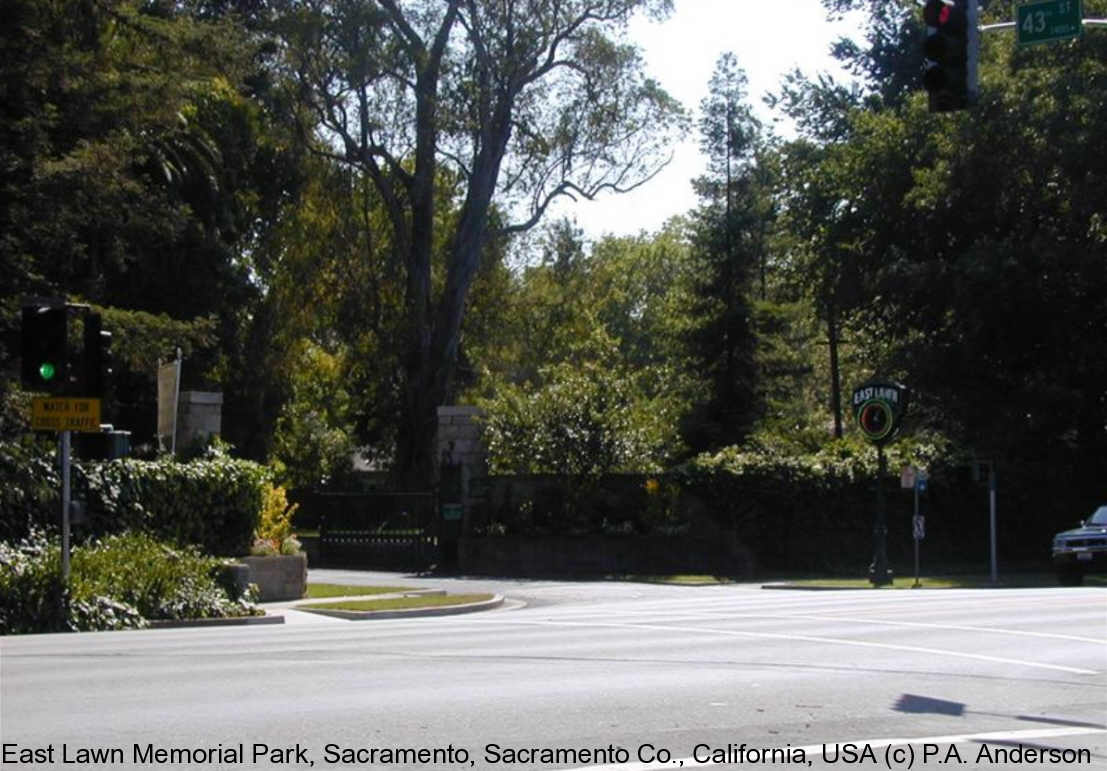 Notizen:
4300 Folsom Boulevard
Sacramento
Sacramento County
California USA
Postal Code: 95819
Phone: (916) 732-2000
www.eastlawn.com
Cemetery notes and/or description:
East Lawn, a non-denominational memorial park, was founded by three prominent Sacramento families in 1904. The mausoleum was built in 1926. Gate hours are 8 am to dusk.
Friedhofs-Fotos
Vorschaubild
Beschreibung

1

Johann Heinrich Koerner
East Lawn Memorial Park, Sacramento, Sacramento County, California, USA

2

Katherine Walker
East Lawn Memorial Park, Sacramento, Sacramento County, California, USA

3

Virginia Guenill Williams
East Lawn Memorial Park, Sacramento, Sacramento County, California, USA
Alle Beerdigungen
Nachname, Taufnamen
Begraben
Personen-Kennung
Stammbaum
1.
Blanton, Pearl Mae
East Lawn Memorial Park, Sacramento, Sacramento County, California, USA
I3730
Zimbelmann
2.
Koerner, Johann Heinrich III.
East Lawn Memorial Park, Sacramento, Sacramento County, California, USA
I156713
Zimbelmann
3.
Rose, Alfred Augustina
East Lawn Memorial Park, Sacramento, Sacramento County, California, USA
I3714
Zimbelmann
4.
Walker, Katherine
East Lawn Memorial Park, Sacramento, Sacramento County, California, USA
I156712
Zimbelmann
5.
Williams, Virginia Guenill
East Lawn Memorial Park, Sacramento, Sacramento County, California, USA
I158689
Zimbelmann