Rose Hills Memorial Park, Whittier, Los Angeles County, California, USA

OpenStreetMap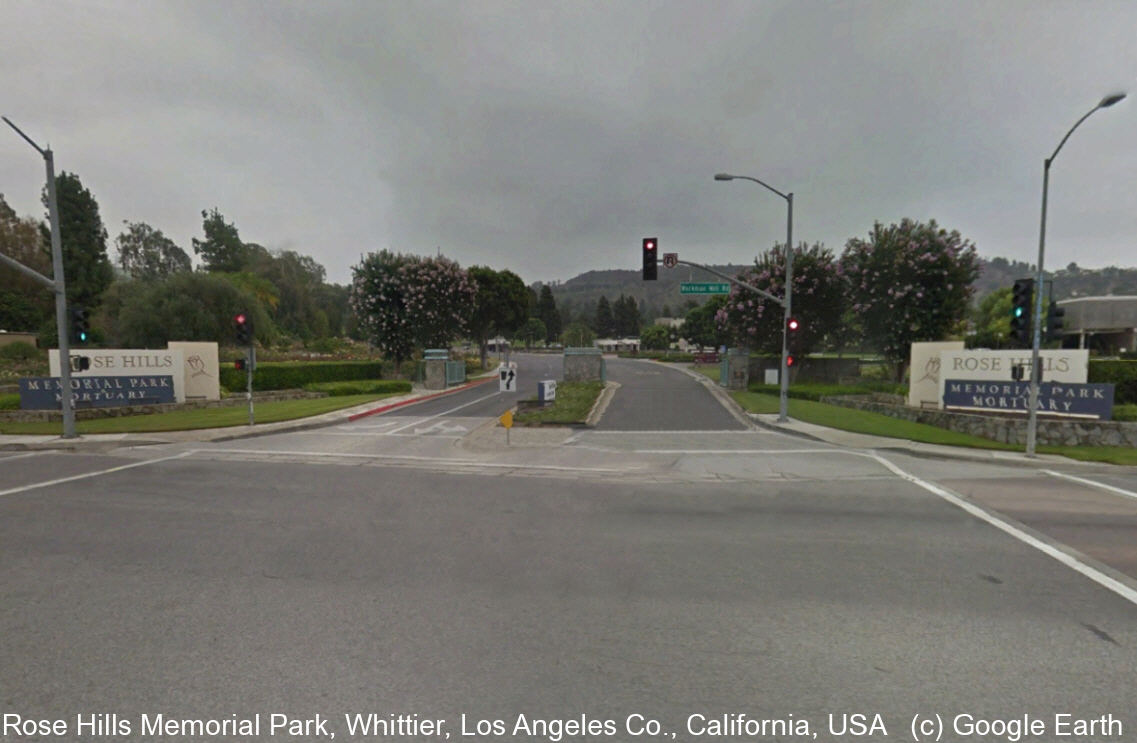 Notizen:
439.176 Graves (Sep 2018)
3888 S. Workman Mill Road, Whittier, Los Angeles County, California, USA
Cemetery notes and/or description:
Also known as: Whittier Heights Memorial Park
Postal Code: 90601
Phone: 562-699-0921
www.rosehills.com/en-us/index.page
Rose Hills claims to be "the single largest memorial park in the world, over 1500 acres."
To aid your search when you visit, make a note of all the burial information provided in the online database search. Stop in at the Main Information front desk (not the little booth in the driveway) and ask them to help you with curb numbers. Curb numbers are not part of the online database and you will want these to help you narrow your search for graves in the lawns.
Friedhofs-Fotos
Vorschaubild
Beschreibung

1

Dorothy Alice Lohstreter
Rose Hills Memorial Park, Whittier, Los Angeles County, California, USA

2

Hannah Ross
Rose Hills Memorial Park, Whittier, Los Angeles County, California, USA

3

Harold Fredrich Teske
Rose Hills Memorial Park, Whittier, Los Angeles County, California, USA

4

Herbert Ludwig Trautmann
Rose Hills Memorial Park, Whittier, Los Angeles County, California, USA

5

James Henry Anderson
Rose Hills Memorial Park, Whittier, Los Angeles County, California, USA

6

Jean Lorraine Ulmer
Rose Hills Memorial Park, Whittier, Los Angeles County, California, USA

7

Marjorie Merle Milner
Rose Hills Memorial Park, Whittier, Los Angeles County, California, USA

8

Rudolph Leopod Serr
Rose Hills Memorial Park, Whittier, Los Angeles County, California, USA
Alle Beerdigungen
#

Nachname, Taufnamen

Begraben

Personen-Kennung

1.
Anderson, James Henry
gest. 5 Dez 1982
Rose Hills Memorial Park, Whittier, Los Angeles County, California, USA
I183428
2.
Bloomsness, Chester Emmet Sr.
gest. 20 Feb 1964
Rose Hills Memorial Park, Whittier, Los Angeles County, California, USA
I94463
3.
Heimbigner, David
gest. 24 Apr 1984
Rose Hills Memorial Park, Whittier, Los Angeles County, California, USA
I94453
4.
Leitner, Adeline Jane
gest. 24 Mrz 1988
Rose Hills Memorial Park, Whittier, Los Angeles County, California, USA
I94452
5.
Leitner, Eugene Joseph
gest. 4 Aug 1967
Rose Hills Memorial Park, Whittier, Los Angeles County, California, USA
I94445
6.
Leitner, James Arthur Sr.
gest. 19 Mrz 1997
Rose Hills Memorial Park, Whittier, Los Angeles County, California, USA
I94446
7.
Leitner, Norman Dale
gest. 28 Okt 1996
Rose Hills Memorial Park, Whittier, Los Angeles County, California, USA
I94462
8.
Lohstreter, Dorothy Alice
gest. 4 Jun 2000
Rose Hills Memorial Park, Whittier, Los Angeles County, California, USA
I183427
9.
Milner, Marjorie Merle
gest. 1 Aug 1987
Rose Hills Memorial Park, Whittier, Los Angeles County, California, USA
I6557
10.
Ross, Hannah
gest. 7 Mrz 1983
Rose Hills Memorial Park, Whittier, Los Angeles County, California, USA
I5480
11.
Serr, Rudolph Leopold
begr. 30 Nov 1974
Rose Hills Memorial Park, Whittier, Los Angeles County, California, USA
I5479
12.
Teske, Harold Fredrich
gest. 14 Apr 2012
Rose Hills Memorial Park, Whittier, Los Angeles County, California, USA
I33071
13.
Trautmann, Herbert Ludwig
gest. 6 Dez 1988
Rose Hills Memorial Park, Whittier, Los Angeles County, California, USA
I6556
14.
Ulmer, Jean Lorraine
gest. Datum unbekannt
Rose Hills Memorial Park, Whittier, Los Angeles County, California, USA
I33065